Marketing is an old profession. It's been around for hundreds of years in one form or another. But with the advent of digital in the early 80's, companies began taking a serious look at their marketing strategies.
Many organisations realised that it was time for a major overhaul of their primarily outbound strategies. Consumers no longer appreciated being interrupted in their daily lives, if they ever did!
However, even today, with the creation of inbound marketing strategies, they are still irritating their customers with spammy emails, intrusive pop-ups and over-complicated cookies, that gather far more information than most organisations will ever need or use.
Despite these changes CMOs remain one of the leading c-suite members who struggle to keep their jobs for more than four or five years. The reasons are many, but the post "Head of Marketing, How Can You Keep Your Job When Most CMOs Are Losing Theirs?" explains what you can do to ensure you only leave your position when you want to.
Brand Building
Many large CPG companies, such as P&G, Coca-Cola and Nestle, have changed the name of their Marketing departments in the past twenty years, to Brand Building. They hoped that it would revive sales and give new vitality to their communications to better engage their customers in the new social world. But most failed miserably, because they remained very much in a state of business as usual. They continued with the same processes and mind-sets. And with few exceptions, they prioritised thoughts about themselves and their brands, and rarely took their customers' perspective.
Luckily a few other consumer goods companies realised that to satisfy the consumer they had to do things differently. They were the ones that moved to customer centricity. Or to be exact they started on their journey towards putting the customer at the heart of their business. Customer centricity is not a destination, because consumers are constantly changing and their satisfaction never lasts for long. It is a journey with the aim to satisfy and delight.
Customer centricity is not a destination, because consumers are constantly changing and their satisfaction never lasts for long. It is a journey with the aim to satisfy and delight. #CEX #CRM #CustomerCentricity
Click To Tweet
I think we have taught our customers far too well! They understand a lot more about "marketing" than they used to. They understand that companies have marketing plans and regular promotions, so they wait for the next price offs whenever they can.
They also realise that in today's world, products have become more and more similar. Their format, colour or perfume may differ, but there are strong similarities in their performance.
That's why consumers now often have a portfolio of brands from which they choose in many categories. They are far less likely to be loyal to only one brand than they used to be.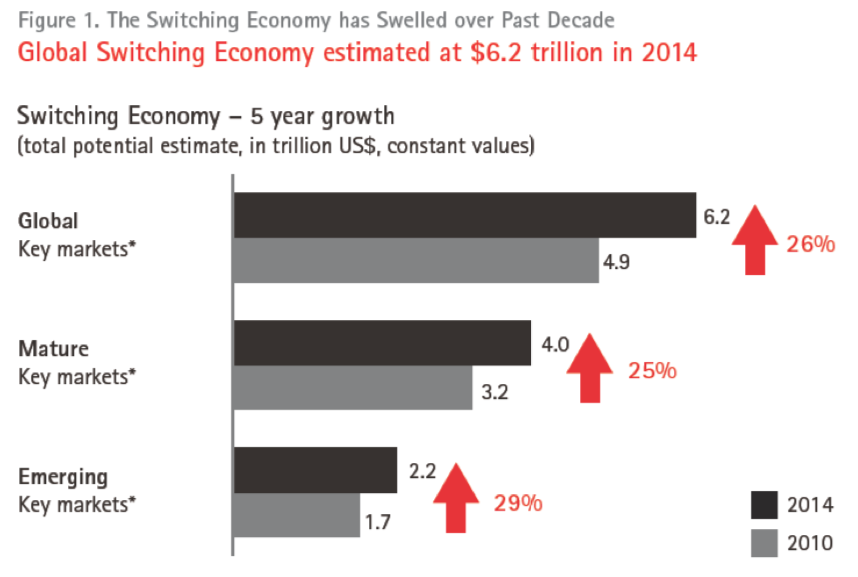 They have also come to expect constant innovation as they quickly adapt to the once novel idea and start searching for the next big improvement. According to Accenture's " Customer 2020: Are You Future-Ready or Reliving the Past?" almost a half of consumers believe that they are more likely to switch brands today compared to just ten years ago!
These are your seven starter tasks for moving from marketing and brand building, to a more customer centric approach. They all have your customer at the heart of them. Any others you'd like to add? I know you can come up with many more ideas than I can alone, so why not share them below and let your knowledge shine?
If you'd like more suggestions about moving to a new-age marketing approach, please check out my book "Winning Customer Centricity". You'll see it's like no other business book you have ever seen! Then you will understand why numerous major CPG / FMCG companies follow it annually. It's fun, inspiring and a useful roadmap for your customer centric journey. 
If you're interested in upskilling your team, then we can provide fun training on many areas of customer centricity. Download our training brochure and then contact us so we can discuss your precise needs. All our courses are personalised to meet your specific requirements; no off-the-shelf trainings are ever given.
[button_1 text="Get%20Your%20Training%20Needs%20Answered" text_size="32″ text_color="#104db2″ text_bold="Y" text_letter_spacing="0″ subtext_panel="Y" subtext="Fast%2C%20effective%20training%20in%201%20Day%20or%20less" subtext_size="20″ subtext_color="#0e89be" subtext_letter_spacing="0″ text_shadow_panel="Y" text_shadow_vertical="1″ text_shadow_horizontal="0″ text_shadow_color="#ffff00″ text_shadow_blur="0″ styling_width="40″ styling_height="30″ styling_border_color="#000000″ styling_border_size="1″ styling_border_radius="6″ styling_border_opacity="100″ styling_shine="Y" styling_gradient_start_color="#ffff00″ styling_gradient_end_color="#ffa035″ drop_shadow_panel="Y" drop_shadow_vertical="1″ drop_shadow_horizontal="0″ drop_shadow_blur="1″ drop_shadow_spread="0″ drop_shadow_color="#000000″ drop_shadow_opacity="50″ inset_shadow_panel="Y" inset_shadow_vertical="0″ inset_shadow_horizontal="0″ inset_shadow_blur="0″ inset_shadow_spread="1″ inset_shadow_color="#ffff00″ inset_shadow_opacity="50″ align="center" href="https://c3centricity.com/training/"/]