Keynotes & Courses
Denyse's most requested live and virtual talks
Innovative Thinking, Inspired Learning
---
During the pandemic of covid-19, we also offer online training to fit your needs
using Skype, Zoom, or your own internal video conferencing facilities.
---
Need to Motivate and Train your Team on the Elements of a Customer-First Strategy, but can't take extended downtime? Then we have the answer!
1 Hour Keynotes, Talks, and 1-Day Customer First Strategy Training Sessions
The short, sharp, fun & efficient way to train & motivate your team – or your whole organisation!
Every engagement starts with an in-depth consultation to clarify your team's challenges. This ensures you get a custom talk or program that precisely meets your desires.
Denyse can be seen presenting around the world and is just as comfortable in front of thousands of conference attendees, as she is talking with a few top executives of a Fortune 100 company.
Denyse's Most Requested Keynote Topics
How To Succeed in Brand Building When Everyone Around You Is Failing.
Learn the 7-step CATSIGHT™ Process and the three foundational steps to brand building most companies forget. Understanding these will make you a marketing super-star.
The Answer Is Your Customer; Now What's Your Question?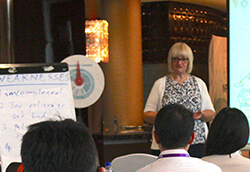 How to adopt or update your customer first strategy. Why your customers should be the heart of your business and how to easily involve them in all your processes.
Why Trend Following Will Never Prepare Your Business For The Future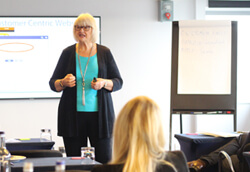 Today's norm is constant change, especially post-covid. Learn the pitfalls of trend following and the better way to prepare your organisation for potential opportunities & risks, through the development of plausible future scenarios.
Getting To Yes. How To Get Buy-In On Every Project
Although there is no magic bullet to transform your business into a successful powerhouse, there are many similarities amongst those that grow more profitably. And what they have in common is their business project process and management.
The Answer Lies Within; Amplifying Your Own Intuition
Learn how to have the best life ever, the one you were born to live. Don't wait until life forces you to change due to a job loss, serious illness or relationship issues. Dare to change through developing your own intuition.