We all know that customer centricity is essential; even more so these days with the lockdown in most countries due to the pandemic.
Now more than ever, businesses need to put their customers clearly at the heart of their organisation. But I know that many struggle, even in more normal times, to be customer centric. They just don't know where to start. Am I right? If you're one of them, then this article is for you.
This week I give you ten simple actions to accelerate your organisation along its path to an improved customer-first strategy.
#1 Review & Revise the Description of your Target Audience
Do all your brands have a clear description of their target audience? These days we tend to speak about personas or avatars.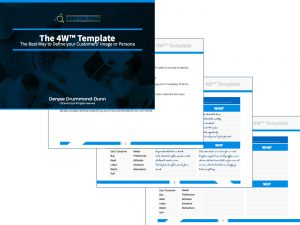 Is it as complete as it should be? If not, then regular readers will know about and probably use the C3Centricity 4W™ template for storing all this information. You can download it and get the accompanying workbook here.
Include not only your customers' demographics and consumption / purchasing habits but also information about where they do these things, what values they have that you can tap into and what emotions motivate them to purchase and use your brand.
#2 Assess the Optimum Way of Connecting with Your Customers
Do you know the best way to contact your target customers, as well as their preferred place and time to connect?
Review how you communicate with your customer and what information exchange there is at that time. Is it one-way or two? Are you in a monologue or a dialogue?
Obviously the second is what it should be. You can learn far more about your customers when they are ready to share their information with you.
For an original take on engaging your customers see "You're missing out on A Free Communication Channel! (Any guesses what it is?)."
I hope this list has helped you to identify a few areas that need revision in your organisation. Actioning even just one of them will improve your customer centricity and your profitability too (according to research).
Of course completing them all will ensure that your customer is really at the center of your business, as well as in the hearts of your employees.
If you would like to know just how customer centric you are, complete the C3C Evaluator™ assessment. It's free! The Evaluator™  will help you to identify where you are today as well as how to prioritise any needed changes in your organisation. 
For further inspiration on making your organisation more customer centric, check out our other articles on C3Centricity, or contact us here:
C³Centricity.com uses images from Denyse's book Winning Customer Centricity and the associated website WinningCustomerCentricity.com, as well as Pixabay.com.
Continue Reading