"Never miss an episode. Subscribe on Apple Podcasts to get new episodes as they become available."
Are you as shocked as I am, to think that there is a free communication channel which most marketers are not using effectively today?
So what is this incredible channel? The Internet? No. Social Media? No.
OK, so everyone is excited about the web and have jumped on board the digital train. But some are already seeing that online advertising is not the "safest" way to communicate.
Take P&G for example. A recent AdAge article stated that:
Procter & Gamble's concerns about where its ads were showing up online contributed to a $140 million cutback in the company's digital ad spending last quarter… 

P&G didn't call out YouTube, the subject of many marketers' ire earlier this year, … but did say digital ad spending fell because of choices to "temporarily restrict spending in digital forums where our ads were not being placed according to our standards and specifications."
Will others follow? I don't know. But I would like them all to reconsider their total advertising spend in light of this underutilised but highly effective channel that I'm about to share with you. Have you guessed what it is yet? It's packaging!
Think about it. Packaging communicates in-store, on the shelf as shoppers pass by.
[bctt tweet="Packaging communicates in-store, on the shelf as shoppers pass by #Packaging #Instore #Retail" username="Denysech"]
It communicates to users when they take it home and open it. Although for how long? See below for some developments in that area.
And it may also communicate when it's used, whether it is snacks, drinks, breakfast cereals, cookies, pharmaceuticals or a whole load of other products which are consumed straight from the pack.
So if a pack has the possibility to communicate, why are so few marketers using it?
I believe it's because they don't see packaging as a communication channel, which is a serious mistake. After all, it's free!
There are two very popular posts on C3Centricity on the topic, which you might like to read before continuing. The first is "How Communicating through Packaging is more Informative & Personal" which shares some great examples of how creative pack usage has become the basis of full media campaigns. Click the link above to read more.
The other is "Is your Packaging Product or Promotion?" which talks about why people don't read instructions – until they need them – but they do read what's written on packs. Click above to read more.
Both of these posts provide some great examples of companies which have used their packaging to communicate with their consumers. However they are a couple of years old now, so I wanted to update my thoughts on the packaging channel opportunities, as well as the examples I share.
After all, customers have become more demanding in recent years and want to know far more about the products they purchase.
[bctt tweet="Customers are more demanding & want to know far more about the products they purchase #shopper #purchase " username="Denysech"]
And if you can't wait to start a review of your own packaging, why not book a complimentary advisory session with me?
BOOK YOUR COMPLEMENTARY ADVISORY SESSION
Food and Beverages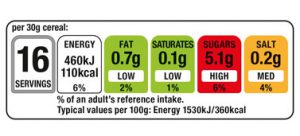 The F&B category has seen and continues to see the introduction of a lot of packaging laws.
When Nestle launched its "Compass" way back in 2005, most other food manufacturers were keeping things simple. Some had colour codes like traffic lights to indicate calorie content, while others had five or seven bullets on front of pack that showed the ingredient breakdown in terms of daily limits of fat, protein, sugar, carbohydrates etc.
Today, purchasers check far more details on labels in-store before buying. According to research by Prepared Foods and BevNet, they are looking for very specific guarantees in addition to mere ingredients, such as:
gluten free, dairy or nut free.
no additives or preservatives
recyclable packaging
healthier packaging materials
functional properties such as a good source of calcium, fiber, antioxidants, protein, omega 3 or probiotics.
Unfortunately with such demands for so much information on pack, there is little room for anything else. That is why manufacturers are getting creative with their packaging.
There are so many new ways to use packs for communications, but here are three of the most on-trend tactics today.
[bctt tweet="There are so many new ways to use packs for communications #packaging #communications" username="Denysech"]
Smart Packaging
It has always amused me that we spend time reading product contents, but still try to connect electronics or build flat-pack furniture without reading the instructions! Clearly we think we understand technology and furniture better than food, or at least we think we do! Therefore thank goodness that smart packaging is now available!
Smart packaging, including NFC (near field communic­ation) tags, transforms conventional packaging into a digital communication channel with customers. Not only does it transmit information at the point of sale, but also after purchase in the home, with such benefits as refill reminders, freshness alerts or usage tips.
Connected packaging is a real win-win for both manufacturers and customers. It can collect consumer habits and behavior that provides brands with a new level of understanding which can then be used to develop future products.
According to Research and Markets, the global smart packaging market is expected to grow to $52 billion by 2025, thanks to adoption in categories such as personal care, beauty, food, healthcare and pharmace­uticals.
Smart packaging works by tapping on the pack with your smartphone, to receive information about the product, usage suggestions, sourcing and ingredients. This brings an intimacy with the customer that will differentiate the brand from its competitors and hopefully increase loyalty. It also provides a guarantee of authenticity, which is an added benefit in certain categories plagued by counterfeits.
As packaging is also required to show more information on pack, and in multiple languages as sourcing goes global, smart packs have arrived just in time to save the customer from needing a magnifying glass to read what's printed on them. With the aging population in most developed countries today, this is an additional benefit.
Attractive Packaging
Amongst the numerous trends highlighted by Mintel in their report "Five key trends set to impact global packaging markets in 2017" the importance of appeal, especially online, was mentioned. This will mean a desire for packs which stand out from the competition, especially in the smaller sizes on-screen.
An article on 99Designs shows how manufacturers have risen to the challenge in a number of creative ways: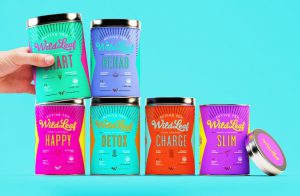 Simpler, bolder designs
Exceedingly bright colours
Unusual designs
Illustrations as narratives
Eco-friendly packaging
There is one additional benefit of unusual or attractive packs and that is their "buzz" value.
[bctt tweet="There is one additional benefit of unusual or attractive packs & that is buzz value #SMX #packaging" username="Denysech"]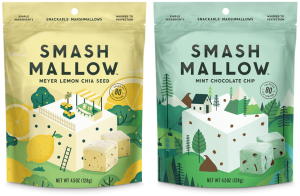 People love to be the first to share a new purchase when it is out-of-the-ordinary in terms of colour, shape or usefulness. It's a matter of forget the contents – at least the time of a YouTube video clip – and love the look of the pack!
Personalised Packaging
This is not a new trend but has attracted attention from many brands in recent years. In an article entitled "The pros and cons of personalised packaging for FMCG brands" eConsultancy reported that:
Image source: WeAreSocial.com

The success of Coca-Cola's 'Share a Coke' campaign proved that people can't get enough of  personalisation.
However as they also point out, personalisation is not really "personal" since so many people have the same name around the world.
Enter the trial of true personalisation. Heinz offered their soup range with a "Get well soon … " message.
Although it was almost twice the usual price per can, the reasons it worked were many. It included a donation to charity for every one sold. It communicated online rather than on TV, adding to the personalised feel of the campaign.
Also in the second year they even allowed fans to vote for their favourite soup to join the tomato and chicken flavours they already offered. (potato and leek won, by the way)
One company that has had less success with its own attempts to copy Coke is Nestle. They proposed a pop-up "KitKat Chocolatory" in London's Westfield shopping mall.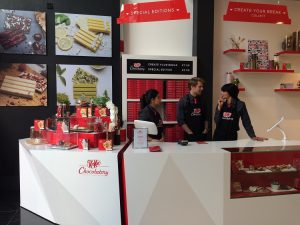 It was built on Coke's naming trend and the success KitKat had with the concept in Japan.
Although the personalisation went beyond the name, with customised toppings and flavours too, it made a number of basic mistakes:
The UK is not Japan. KitKat is a cult brand there and has been for years, especially for gifting.
The process was digitalised, so people didn't get the chance to make nor even see the bar being made for them – unless they hung around for an hour or so.
Purchasers had to wait (at least) 90 minutes before their personalised bar was ready.
The "experience" added up to a few moments using a touchscreen; neither personal nor very exciting.
It cost seven pounds! 
I believe most of these points could have been corrected if they'd bothered to be a little more customer centric. The text message sent when the bar was ready, while a nice touch, meant providing Nestle with additional information about the purchaser, which no doubt they will use in the future to contact them, whether they like it or not!
I suggest that Nestle learn from how Pret a Manger did pop up retail brilliantly. You can read about it in "Eight ways Veggie Pret innovated pop-up retail strategy" from eConsultancy.
Like Veggie Pret, the KitKat example does include a personalised product offer too. But that's not new. Many food and confectionary brands have been offering these for many years on a promotional basis. Again the prices are higher, but the impact of the product too is greater. At least that was one thing Nestle did get right.
Returning to the topic of packaging, the change in retail, which I spoke about last week in "The Future of Retail is in the Stars – or it is the Cloud?" means that packs too have a new role to play beyond protection and container. They can be a free communication channel too.
In some industries we are seeing a return to non-packaged products where the customer provides their own containers. 
Bulk offering of essentials has been used for years for washing powders, chocolates, candy, juices, wine, vinegar, olive oil etc, but with the crackdown on recycling, many purchasers are leaving the cardboard outers in the shops.
Manufacturers will have to get smarter in the way they communicate, when their outer no longer exists. It will certainly make communicating even more difficult unless manufacturers follow the trend to smart packaging.
What do you see as the future of packaging? I'd love to hear your thoughts.
[button_1 text="BOOK%20YOUR%20COMPLEMENTARY%20ADVISORY%20SESSION" text_size="16″ text_color="#FFFFFF" text_bold="Y" text_letter_spacing="0″ subtext_panel="N" text_shadow_panel="Y" text_shadow_vertical="1″ text_shadow_horizontal="0″ text_shadow_color="#0E89BE" text_shadow_blur="0″ styling_width="40″ styling_height="20″ styling_border_color="#274660″ styling_border_size="1″ styling_border_radius="6″ styling_border_opacity="100″ styling_gradient="Y" styling_shine="Y" styling_gradient_start_color="#0E89BE" styling_gradient_end_color="#274660″ drop_shadow_panel="Y" drop_shadow_vertical="1″ drop_shadow_horizontal="0″ drop_shadow_blur="1″ drop_shadow_spread="0″ drop_shadow_color="#000000″ drop_shadow_opacity="50″ inset_shadow_panel="Y" inset_shadow_vertical="0″ inset_shadow_horizontal="0″ inset_shadow_blur="0″ inset_shadow_spread="1″ inset_shadow_color="#0E89BE" inset_shadow_opacity="50″ align="center" href="https://c3centricity.com/contact/" new_window="Y"/]