Are you as busy as I am, as we plan on how we're going to deliver on all our objectives before year-end?
The last quarter of any year is a stressful time indeed, but this post on actionable insights is a must-read if you want to start 2020 ahead of the competition!
I've just returned from running a two-day workshop in Japan. The topic was "Insight into Action with Impact". One of the things that I loved about the workshop was that marketing was invited too. Even though market research and insight (MRI) groups generally report into marketing in most companies, it seems to me that they are often working on different planets! In many organisations, the collaboration between these two departments goes no further than project briefings and results delivery.
This is not the case with my client in Tokyo; this MRI group has a wonderful working relationship, not only with marketing but also with Channel, Sales, R&D, Finance and even Legal. They have understood that insight development is too important to be left to the market research team alone and have worked hard to build strong relationships with all the other departments in their organisation.
Insight development is too important to be left to the market research team alone. #MRX #Marketing #Insight
Click To Tweet
I am sure that many of you reading this, are asking why this is so important. It is NOT important, it is VITAL! Insights are the golden nuggets that we are all searching for. Successful companies depend upon deep customer insights to grow their business. They understand the power of engagement built on insight, to connect with and inspire their customers. And yet many companies continue to leave this to the insight team to develop and deliver on their own. It's as if they believe that this group have some natural-born skill or magic that enables them to do it while others cannot. Don't worry, we can all do it with the right training and a few tools.
Insights are the golden nuggets that we are all searching for. #MRX #Marketing #Insights
Click To Tweet
Great companies understand the importance of insight generation and the challenges faced by everyone in developing them. This is why the best marketers search for greater collaboration. I always encourage the market researchers in my client companies to socialise with other departments, rather than sitting behind their computers all day. The best marketers already do this, do you?
I was encouraged to see that marketing have finally understood the importance of insights. In some recent research by Gartner CMOs selected market research and insights as just as important as marketing analytics and digital commerce (see graph below).
Better late than never I suppose, but it always amazes me that marketing could put anything ahead of insights. After all, every action they decide to take should be based upon deep knowledge and understanding of the customers targeted.
If you are struggling to develop insights that will truly resonate with your consumers or customers, then I suggest you follow these eight tips that I shared with my client's marketing and insight teams last month.
8. Insight development should involve more than the insight team, which is why it is important for them to always be building their relationships with other departments. The alternative perspectives brought by the other groups will enhance the overall understanding of both the customer and the market situation you are looking to address.
So these are the eight tips I shared with my Japanese client during our workshop. Are you doing all of them, or have they given you some ideas on how to improve your own process? I do hope so.
If you work in marketing or even another department outside of market research and insight,  I would love to hear what you do to develop your relationships with MRI. Do they involve you in insight development or do they only deliver the results of their process to you? What could you and they do better to make insight development and customer understanding easier in your organisation? Add a comment with your suggestions below.
For more information on our training courses in insight development and brand building, please check out our website or contact us here.
Let's have an informal chat about how we could support your brand building efforts and provide fun, actionable training to your team's agenda. They can be delivered both online and in person.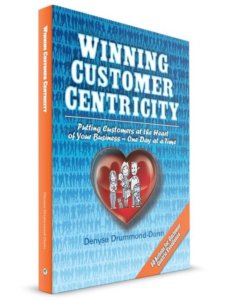 This post includes concepts and images from Denyse's book Winning Customer Centricity. It is available in Hardback, Paperback, EBook and AudioBook formats. You can buy it, usually at a discount, on our website HERE. Of course, the book is also available on Amazon, Barnes and Noble, iBook and in all good bookstores.