Mapping your customer journey is an important part of understanding and satisfying them better. Since the travel and leisure industries are still in turmoil after covid, I believe that now is a good time to review how they treat their customers. And this should include their customer journey mapping.
Through the example of an experience I had with the Hilton Group, I share some important lessons about getting customer service right! These will be invaluable as the travel industry fights to recover. 
Background
Each year around Christmas time, my family get together for a weekend of fun somewhere in Britain. Last year we met up in Bristol. As a Hilton Honors member for more than twenty years, I offered to book rooms for all of us in the local Doubletree.
I expected to get a better rate with my membership, and certainly cheaper than those offered by all the booking sites. Well, I reserved five double rooms for the weekend, as well as a table for ten in their restaurant for dinner on the Saturday evening.
I booked directly by calling the hotel, as I always prefer to do. I expect to be recognised for my loyalty – and if possible rewarded too! On this occasion I was proven seriously wrong!
A couple of weeks after booking and pre-paying for all the rooms, I received Hilton's weekly newsletter offering me a significant discount for the exact same hotel and dates. Clearly their online pixels had identified me as being interested in this hotel, but they hadn't connected this interest with my having booked directly. You can already see from this, that their customer journey mapping is incomplete.
As Hilton offer a "guaranteed lowest rate" I reached out to their call centre and was told that yes I was entitled not only to the lower rate, but to an additional 25% discount for having made the claim. I was told how to complete the claim form and I hung up ecstatic that I could save my family even more money – which we would no doubt spend in the bar before and after our dinner!
Imagine my surprise when the next day I was informed that my claim had been refused! I was notified that the guaranteed lowest rate only applied to third-party sites and not to Hilton's own website!
[bctt tweet="Guaranteed lowest rates should mean just that! Otherwise you're just cheating the customer. #CEX #CRM #Customer" username="Denysech"]
I immediately responded and was again told that their guarantee didn't apply to their own rates. In addition, as I had pre-paid I could not get the lower rate even if it was now being offered!
Not being one to take "no" for a final answer, I contacted their corporate customer service group again, as I felt my loyalty was not being recognized. I was once more given the same response, but this time was informed that my request would be forwarded directly to the hotel concerned – no doubt to get me off their (corporate) backs!
The hotel immediately responded saying that although it is corporate policy not to include direct bookings in their lowest rate guarantee (?!!), they would in this case give me the special offer. I was very pleased that they at least recognised the benefit of customer satisfaction and restored my faith in the Hilton group – somewhat.
That should have been the end of this story, but it's not. Hilton surpassed themselves this time in terms of customer service, or rather a serious lack of it!
My brother called me the following week and informed me that the hotel's website was showing that their restaurant was closed on the day I had booked it. I immediately rang them and spoke to the same person, who remembered me and assured me our table for ten people was booked. She said she would double check again just to be sure, so in the afternoon I called back not wanting any last minute problems with my family.
Surprise, surprise, I was told the restaurant was booked for a private party. What about my reservation made more than a month ago? Shouldn't someone have contacted me? I demanded to speak to the manger, who apart from profuse apologies, said she would raise the issue in their operations meeting later that day.
She called me back that evening, to say that there was nothing she could do. It was their mistake and they would be happy to book me elsewhere in the city. I explained that my family had booked six rooms for two nights at their hotel so we could eat at their famous restaurant (my married sister had booked separately). No solution offered; an admission of fault but no compensation offered and no alternative other than to book at another restaurant! Their suggestion was their sister hotel down the road, a bland, modern affair, with no atmosphere.
This farcical situation continued during the whole weekend, but I won't bore you with the details, as I would rather use this incident to demonstrate how Hilton (and you) can be better prepared.
Three Lessons Learned about Customer Journey Mapping
So what lessons can we learn from this example, even if we work in a different industry? I came up with the following points, but I would love to hear what other issue of customer journey mapping you are having; just leave me a comment below please.
1. The customer journey map needs to integrate all possible contact points.
In Hilton's case this is clearly not done. I was personally offered a cheaper rate at the hotel at which I had already booked five rooms! Clearly they had identified that I had reviewed prices online and then offered my the cheaper rate.
Without their email, I would never have known and would not have checked prices again since I had already booked. More importantly, I became dissatisfied with my booking, having been informed by Hilton that I could have paid less by booking closer to the date of arrival.
Lesson: You must include all touchpoints in your customer journey map, to avoid disappointing your customers. By using an incomplete model, Hilton opened themselves up to annoying a loyal customer rather than just appealing to potential new ones.
[bctt tweet="Include all touchpoints in your customer journey map, otherwise it's a dangerously incomplete model." username="Denysech"]
2. If you mess up admit it AND correct it
After calling to book the rooms, the hotel put me through to the restaurant to book a table for the Saturday night. Everything was confirmed and I would not normally have checked details until arriving at the hotel and checking in.
The excuse that the closure of the restaurant is on their website didn't go down well with me when I called to check. After all, they themselves had taken the reservation in person, so why would I need to go to their website? In addition it was not possible to book the restaurant on their website!
Lesson: An apology for a mistake is not its resolution. Proposing to book another restaurant in their sister hotel was nothing more than I could have done myself. I didn't feel that the Hilton staff were interested in correcting the situation that they themselves had created. They did not go out of their way to make things right, which is even less acceptable for a loyal customer.
When your company makes a mistake, find a solution that is acceptable to your customer, not just the quick fix that suits you. Now is your chance to not just satisfy, but to surprise and delight them too. It then turns a bad memory into a great one!
[bctt tweet="An apology for a mistake is not its resolution. Don't expect your job to be done until your customer's problem is solved and they are delighted!" username="Denysech"]
3. Follow up to make sure the customer is happy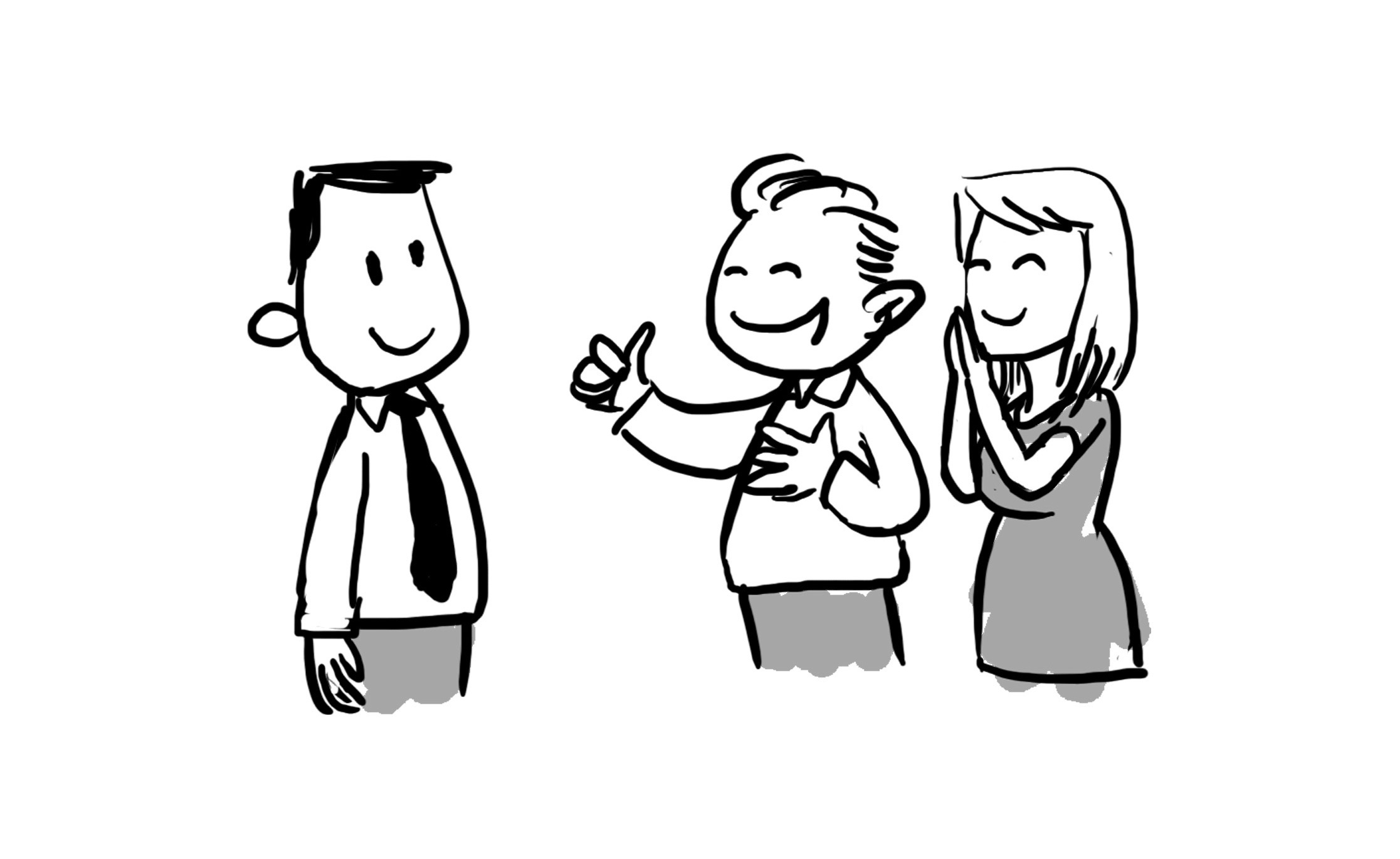 I often speak about delighting the customer but your first aim is to ensure your customer is happy with the solution that you propose. Only after that can you look to see how you can go above and beyond what they expect, so they are both surprised and delighted with how they have been treated.
Lesson: Replacing a faulty product or service is what our customers expect. Offering free samples, a further discount, express delivery or additional attention is not. These are the small touches that surprise and delight. They are also the things that your customers will share with friends and family, if not the whole world through social media. Suddenly you have gone from being the bad guy to the cool guy.
[bctt tweet="Replacing a faulty product or service is what customers expect, but it's not enough! Do more to surprise & delight: these will be shared with friends and family." username="Denysech"]
Customer journey mapping has become much more complex today, as the touchpoints our customers are using, before, during and after purchase, have expanded exponentially. However the process of identifying and understanding the complete journey remains essential to delighting each and every customer.
BONUS Ideas
1. One further element which I suggest my clients add to their journey maps is the emotional state of their customers at each point of interaction. This simple addition is a powerful addition and clearly shows where a brand needs to improve its customers' experience. It highlights those touchpoints where their customers' emotional state is sub-optimal and needs improving.
2. And one final suggestion that I give my clients, is to become your customer. Go our and buy what you are selling. Experience different outlets, different buying experiences, covering as many, if not all, the touchpoints. It will amaze you how much you can learn from this simple exercise. 
---
Do you need help developing or updating your own customer journey map?
C3Centricity offers several 1-Day Catalyst training sessions on the topic.  Download the brochure to learn more.

If you prefer, we can also work directly with your team to review and revitalise your own customer journey mapping.