Technology is often seen by marketing as a disruptor of business as usual, but it isn't. Technology is in fact an enabler, at least when used properly and appropriately. So what is disrupting business as usual? It's the customer, especially in industries that are not customer-centric.
It was Marco Pacheco, Executive Director at JP Morgan who first inspired me to talk more about this aspect of a customer-first strategy, when he shared the slide on the right on LinkedIn a few years back. 
I had already been speaking about the need for businesses to prepare for the dramatic change that was coming thanks to technological innovation. However, it was Pacheco's slide that made me realise why I was so keen on companies adopting a customer-first strategy and running scenario planning.
His five simple examples brought it home more powerfully than I have ever done before. That's why I wanted to share it with you. The summary says:
Netflix did not kill Blockbuster, ridiculous late fees did.
Uber did not kill the taxi business, limited taxi access and fare control did.
Apple did not kill the music industry, being forced to buy full-length albums did.
Amazon did not kill other retailers, bad customer service did.
Airbnb isn't killing the hotel industry, limited availability and pricing options are.
In conclusion it states that:
"Technology by itself is not the real disruptor. Not being customer-centric is the biggest threat to any business."
That's music to my ears!
Technology is not a Disruptor, but a Powerful Customer-First Strategy is!
Click To Tweet
Looking again at the five examples he gives, there are a number of specific aspects of customer-centricity that are highlighted. In my opinion they show the following advantages for the customer:
freedom of choice
transparency
trust
being valued
If you don't want to see your own industry fall victim to start-ups that better provide these, then now is the time to act. Or rather if you're not already on your journey to adopting a customer-first strategy, you're probably already seeing a slowing, if not actual decline, in your growth and profitability.
If you don't want to see your own industry fall victim to start-ups that better provide for customers, then now is the time to adopt a customer-first strategy. #startups #Business #Technology
Click To Tweet
The Future of Many Industries is Unthinkable
By this I mean that change is happening so fast that it is difficult for organisations to even imagine the future. This is why I encourage my clients to develop plausible future scenarios, rather than merely follow trends. Only by doing so, can they be prepared for every possible risk and opportunity. Identifying one, most likely future is unlikely to deliver the variation that will no doubt happen. For more on this topic, read "5 Business Success Factors (So You're Ready for Anything!)"
As I mentioned at the beginning, technology is an enabler that permits industries to provide more of what their customers want. There are already many examples of ones which have been helped or radically altered by technology and science. For example: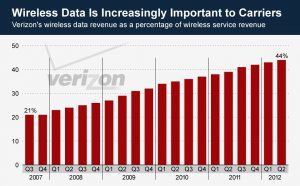 TELECOMS now make as much money from selling (geo-localisation) data than they ever did from selling phones and lines.
Already back in 2015, data accounted for 44% of Verizon's profits, as shown in this Adage article.
Don't you think their business model changed – dramatically – as a result of this? Of course it did!
In the 2015/17 period the Verizon group bought both AOL and Yahoo's internet business. This was further proof of their prioritisation of data usage as they tried to access the digital advertising market quickly. But they made several mistakes.
These were both later sold in 2021 as part of their media group disposal, although they did retain a 10% share. During this five-year period, while their revenue has remained stable, their share price rose 25% confirming support of their new business model.
FOOD companies are shifting from machine-made to do-it-yourself meal-kits. In fact, to be precise, the industry is being ever-more disrupted by start-ups offering replacements to the mass-produced, less-than-healthy products that Nestle, Mondelez, Kraft Heinz and Danone have been churning out for decades.
Companies like Blue Apron, Green Chef, HelloFresh, Martha & Marley Spoon, Plated, and Sun Basket all offer healthier and fresher alternatives.
In response to their challenge, the largest food manufacturers are trying to compete by lowering "bad" ingredients and increasing "good" ingredients in their mass-produced brands. However, take a look at what they are doing in detail and you will see that in most cases their "improved" products are no better for us. They still have far too much sugar, salt and trans fats, despite being reduced. They also still lack fresh ingredients, which we all know are far better for nourishing a living body.
These are all examples of ways that are already being used so you can benefit from the experiences of others. But the world is moving fast and you need to also be exploring further new territories where technology can help.
The world is moving fast and you need to be exploring new territories where technology can help your business. #BusinessStrategy #Technology #FutureofBusiness #FutureTrends #NewTechnologies
Click To Tweet
Earlier this year ZDNet highlighted five technologies that touched on technological changes that could impact customer service and experience. They were:
1. Two-way video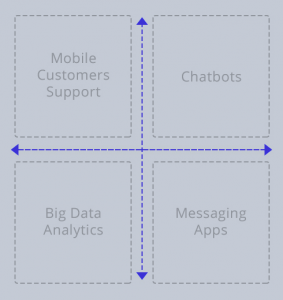 2. Augmented and virtual reality
3. Virtual assistants
4. Messaging
5. Connected devices
As you can see, all five technologies are enablers of improved customer satisfaction, which will lead to increased relationship building and trust. Customers view them as novel and useful today, but it won't be too long before they are seen as the norm. Are you using them? If so, what experiences have you had, as I'd love to hear more about their uses?
Another recent article, this time on Jacada, spoke about the "4 Technology Trends set to Improve Customer Experience in 2017." (See their diagram on the right) In it they highlighted ChatBots, Big Data analytics, Mobile customer support and messaging Apps.
In this article they pulled out the larger areas around how technology can help with mass connection and analysis of the resulting exchanges.
What both these articles highlight is the need for marketing to harness technology in order to build relationships with their customers. If they do so, they can set their brands apart from the competition. If you are not already doing so, then you have little time remaining to catch up before being left seriously behind.
It conclusion, it is clear that technology is an enabler and can and should be employed to improve the customers' experience. We live in a fast-paced world where we expect instantaneous responses from brands, and information at our fingertips where and when we need it. Technology is the only way we can meet these increased customer demands, by collecting, analysing and then actioning the learnings from these contacts. 
Which of these are you working with today? I'd love you to share your experiences – good and bad – below.
---

Interested in using technology to help you integrate multiple data sources and develop actionable insights? Then we should talk. Book time in my calendar for a complementary Advisory session.