What does it take to write a winning marketing plan? Every marketer writes a marketing or business plan each year don't they, so how difficult can it be, right?
Well, writing a marketing plan isn't hard at all, but writing a winning marketing plan is very difficult. And time-consuming. And getting it approved by your executive board is perhaps the most challenging part of all.
And it's not only in the formal marketing plan presentation that you need your "A" game. Management is renowned in most organisations for "innocently" posing questions when passing marketers in the corridor or while socialising at a company event.
Answer the CEO's questions to their satisfaction and you will stand out from the crowd. Provide an incomplete or, worse still, no answer at all, and they might just wonder if it isn't time to restructure the marketing group!
So here are my 9 actionable tips on how to write a winning marketing plan, so you can answer any question your CEO or boss throws at you – EVERY time.
The simple rule is to NEVER say you don't know, but also to never drown them in a long-winded answer. Neither will win you brownie points. Make sure you have an answer like those proposed below and your name might just be on the next list of promotions. (Do I congratulate you now?!?)
1. WHO ARE OUR BRAND'S CUSTOMERS?
There is far more information needed than just age and gender, to answer this question. Prepare a short description (often called a persona or avatar) of a typical user, in the same way as you would describe a friend. See "13 Things your Boss Expects you to Know about your Customers" for further details on what you should already know about your customer.
Once you've checked out the above article, why not also download our 4W™ template? It will help you put everything in one place so it is always handy and more importantly makes it easy to update it whenever you learn something new about them.
GOOD ANSWER: "Our customers are middle-aged women, whose children are in their late teens or early twenties. She shops in local supermarkets and gets advice from friends on Facebook, about the best brands to buy and what's on offer."
If the CEO / your boss looks interested or asks for more, then continue with "She's been buying our brand for over two years because it satisfies her children's hunger when they get in from playing sports. That makes them happy and she then feels proud of being a good Mum. We call her Patty."
With this answer, you will have given them a short summary of the most important elements of your persona. By adding the name you have given the avatar, you might get them to also refer to her in your next meeting. That's when you know they listened to you and that you won an important step up in their estimation.
A brand persona like the @C3Centricity 4W™ template, will not only keep everything in one place, it, more importantly, makes it easy to update it whenever you learn something new about your customers. #CustomerFirst #CustomerCentricity…
Click To Tweet
9. PLANNING FOR MARKETING PLANNING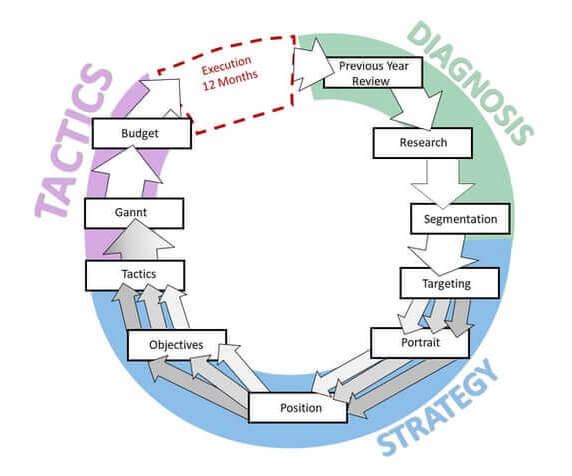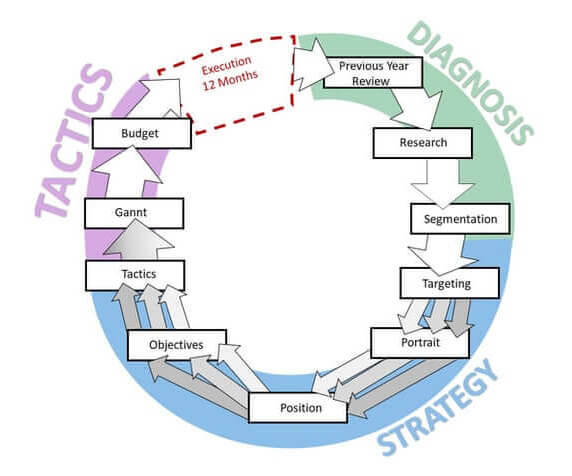 My last question is one that perhaps will surprise you; it is "Did you read Mark Ritson's recent article about marketing planning?" The post is called "14 steps to an effective presentation" and complements well my own article.
I have been a fan of Mark's cheeky wit and solid marketing suggestions for years. Even if I don't always agree with everything he writes, every one of his articles makes me think and reconsider what I do for my own business and that of my clients. And that is the objective of my own blog postings, to make the reader reconsider what they're doing, specifically in the area of how they treat their customers and adopting a customer-first strategy.
Here is the summary diagram on the right, of his structure of a 12-month marketing plan, which I am sure will make you click on the image or the link above to read the article. I would highly recommend you do so, if you missed it when it was first published.
So there you have them. Eight of the most common questions top management asks of marketers – and an extra ninth one from me. As you can see, the answers I've suggested to the eight are short and simple.
Especially when the question is posed outside the formal marketing plan presentation, the executive is probably looking not only for the information requested but also to check that you have an excellent understanding of your brand. He wants to be assured that his business is in good hands. Prove it to him and also show your respect for his time, by giving short, precise answers whenever possible.
Do you frequently get asked other questions not mentioned here? Then please add them in the comments below. Also, if you have a better way of responding to any of the above questions, I'd love to read those too. Thanks a lot.
If you'd like your team to be better prepared for "awkward" questions from management, why not ask for one of our short, sharp 1-Day Catalyst Training Sessions (both virtual and in-person)? They are fun, informative, motivating and above all actionable.
This post is adapted from an article that first appeared on C3Centricity in 2014 and is regularly updated. See the original.