This is the second part of "The 23 Keys to Creating Raving Fans" post by Alan Hale from CMG (Consight™ Marketing Group) in Chicago. Don't forget that you can download the full white paper using the link at the bottom of this post.
---
In addition to using NPS, we also like to use other diagnostic questions to see how we can improve. In general, it is critical to get the importance level of each function as well as our performance score. If the customer is willing to discuss the competition, the insight will be valuable in how you compare to the competition as well as to the best in class vendor. They also will give you specific actions to improve.
The Customer Loyalty Wheel™
The following is how we look at customer satisfaction, loyalty and creating and Raving Fans.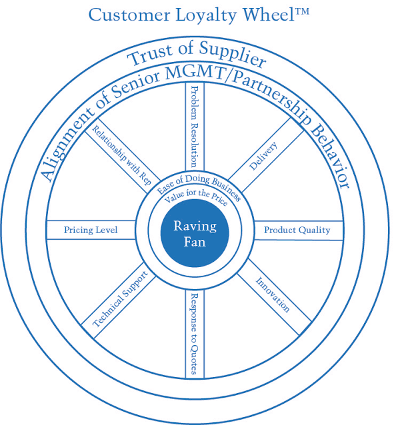 It all begins with the trust and alignment and ends in creating Raving Fans.
8. A few criteria are explained in further detail.
Trust. If the supplier continually breaks promises they have made, there is no trust. The relationship will not deepen, and in fact might eventually be terminated.
Quality. Quality is an ante to play the game. If your product does not perform according to your specifications or breaks down too often, the account will find another supplier. We had a client who moved their production overseas to reduce costs and increase margins. The quality was very poor and the product frequently broke. The client could not understand why they were losing business!
Risk. Pre-sale, it is important to reduce or minimize the risk factor so the customer is more likely to buy. When you buy the wrong toothpaste at home, your family might be disappointed. When you buy the wrong CRM (Customer Relationship Management) or ERP (Enterprise Resource Planning) system at work, you could be fired. When you sell a product or service new to the market, find out how to minimize risk. This could be having someone on site, providing results from an independent lab, or showing a list of positive testimonials from well- known companies.
Be easy to do business with. Don't be so difficult to deal with. Exchange the defective product, have customer service solve the problem, issue accurate invoices. Train customer service, give them the power to make decisions up to a certain level. Everything being equal, a customer would rather give business to someone who is easy to do business with. Conversely, if you are 10% of their purchases and 50% of their problems, expect to be terminated. Don't be a PITA (a pain in the arse). Everyone has problems. Make it easy to resolve. There is research which states customers are more satisfied when a vendor heroically solves a problem versus having no problem at all. We recommend you do not try to game the system i.e. by making artificial problems you know you can heroically resolve.
Be responsive and proactive in communications. We will give you a few common examples from our research. Technical support and sales reps taking days to return a call. The delivery truck is consistently late. If you know you are going to have a delivery problem call the customer. Isn't that a novel idea? They don't like surprises, but can make other arrangements and adapt to the issue. Many clients do not want to admit there is a problem. They hope magically it will go away. Sometimes the supplier goes away.
9. New Product Development. I am astounded by the number of companies who continue to develop new products driven by engineers without any significant customer input. Then, they wonder why the product has failed. Once we had a client who had a new commercial ceiling grid system. It was beautiful and architects loved the appearance. The problem was the general contractor would not award our client the project as the sub-contractor was higher than the bids of other installers. Installing this product required 15% more labor. If the installers installed the product after winning the bid, they would be less profitable. No one had bothered to get the input of the ceiling installation contractors.
Another client manufactured lab equipment, and engineering put every feature they could think of making the product 20% more expensive than the competition. The company had a warehouse full of finished goods inventory that was not selling.
10. Ease of Use/UX. The user needs to find the product easy to use. A client, who manufactured sophisticated lab instruments introduced a next generation product, which was way more accurate than anything currently on the market. But it was more difficult to use and required frequent calibration from a third-party. They forgot to obtain the input of the lab technician.
11. Are you a partner or just another supplier? It is important to determine whether you are perceived as a partner or as a mere supplier to your accounts. Your product may be insignificant like a valve and they don't want a partnership. Or it could be a stainless steel pump on a pharmaceutical skid or a plastic bottle for a soda filling line. You are a partner when you supply a key component. If your product is expensive versus the total cost, or is a key component in making the finished product, you have an opportunity to build a partnership. If you can, be a partner. If you achieve partnership status, ask how you can help your customer achieve their objectives. It will set you apart from the competition.
We wish you much success in your own journey to create Raving Fans. Please feel free to share this white paper with others. If you need assistance or wish to chat about this, and are in the B2B industry, please contact us to see if we can add value. The author of this two-part post is Alan Hale from CMG in Chicago. He can be reached at +1 847-800-1685 or at [email protected].