This is the second part of "The 23 Keys to Creating Raving Fans" post by Alan Hale from CMG (Consight™ Marketing Group) in Chicago. Don't forget that you can download the full white paper using the link at the bottom of this post.
---
In addition to using NPS, we also like to use other diagnostic questions to see how we can improve. In general, it is critical to get the importance level of each function as well as our performance score. If the customer is willing to discuss the competition, the insight will be valuable in how you compare to the competition as well as to the best in class vendor. They also will give you specific actions to improve.
The Customer Loyalty Wheel™
The following is how we look at customer satisfaction, loyalty and creating and Raving Fans.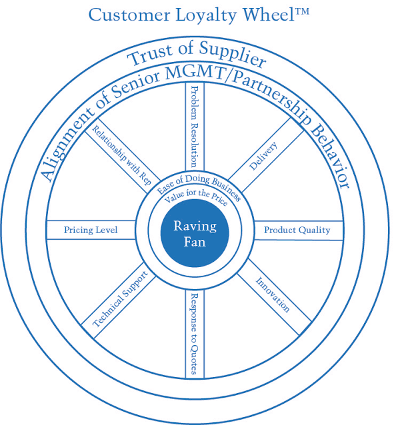 It all begins with the trust and alignment and ends in creating Raving Fans.
8. A few criteria are explained in further detail.
Trust. If the supplier continually breaks promises they have made, there is no trust. The relationship will not deepen, and in fact might eventually be terminated.
Quality. Quality is an ante to play the game. If your product does not perform according to your specifications or breaks down too often, the account will find another supplier. We had a client who moved their production overseas to reduce costs and increase margins. The quality was very poor and the product frequently broke. The client could not understand why they were losing business!
Risk. Pre-sale, it is important to reduce or minimize the risk factor so the customer is more likely to buy. When you buy the wrong toothpaste at home, your family might be disappointed. When you buy the wrong CRM (Customer Relationship Management) or ERP (Enterprise Resource Planning) system at work, you could be fired. When you sell a product or service new to the market, find out how to minimize risk. This could be having someone on site, providing results from an independent lab, or showing a list of positive testimonials from well- known companies.
Be easy to do business with. Don't be so difficult to deal with. Exchange the defective product, have customer service solve the problem, issue accurate invoices. Train customer service, give them the power to make decisions up to a certain level. Everything being equal, a customer would rather give business to someone who is easy to do business with. Conversely, if you are 10% of their purchases and 50% of their problems, expect to be terminated. Don't be a PITA (a pain in the arse). Everyone has problems. Make it easy to resolve. There is research which states customers are more satisfied when a vendor heroically solves a problem versus having no problem at all. We recommend you do not try to game the system i.e. by making artificial problems you know you can heroically resolve.
Be responsive and proactive in communications. We will give … Read the rest