In today's fast-paced and customer-centric business environment, gathering real-time customer feedback and engaging in social media conversations are both vital practices.
These approaches enable organizations to gain valuable insights, enhance their products/services, and deliver the exceptional experiences our customers have come to expect. By actively listening to customers, organizations can meet customer expectations, drive loyalty, and gain a competitive edge. Here's how.
Understanding the Value of Real-Time Customer Feedback
There are many benefits of real-time customer feedback, the two most important being:
The power of gaining timely customer insights: These are at the core of every customer-centric organisation. Real-time feedback allows organizations to stay agile, make informed decisions, and then respond quickly to changing customer needs.
According to a study by the Aberdeen Group, companies that leverage real-time customer feedback are 33% more likely to retain customers.
By promptly addressing customer pain points, organizations can reduce frustration and escalation, while at the same time enhancing satisfaction and loyalty. This increases both customer retention and revenue growth, two things every organisation wants.
Turning feedback into actionable improvements: Organizations can transform customer feedback into actionable improvements by employing techniques such as sentiment analysis, categorization, and prioritization. These methods help extract valuable insights that can then be used to drive meaningful change.
A leading e-commerce company revealed that analyzing customer feedback using sentiment analysis led to a 25% increase in customer satisfaction ratings. By systematically analyzing feedback data, organizations can identify trends, common issues, and areas for improvement, enabling them to prioritize and implement impactful changes.
Implementing Feedback Collection Mechanisms
There are numerous ways in which an organisation can gather real-time customer feedback. Here are three of the most popularly used ones:
In-app feedback and surveys: Collecting feedback directly within digital channels, such as mobile apps or websites, offers an organisation numerous benefits. By implementing in-app feedback prompts, targeted surveys, and pop-up questionnaires, they can capture customer sentiments in the moment. As a result, they gain valuable insights that can help them improve their offerings, without having to rely on the customer's memory.
A survey conducted by Qualtrics found that 72% of customers prefer providing feedback within a mobile app.
Airbnb successfully collects in-app feedback on a permanent basis, as anyone who has used their service knows. It enables the company to enhance the user experience, resulting in continuous improvements and increased customer satisfaction.
Live chat and support interactions: Real-time feedback gathered during live chat and customer services interactions provides immediate insights into customer experiences. Organizations can leverage chat transcripts, agent feedback forms, and post-chat surveys to gather valuable feedback and measure customer satisfaction.
After implementing post-chat surveys, one telecommunications company recorded a 20% increase in customer satisfaction scores. People like being asked their opinion, especially when it doesn't take much effort, as in near real-time questioning.
Post-interaction ratings and reviews: These also play a significant role in collecting real-time feedback. Encouraging customers to provide ratings and reviews immediately after their interactions, helps capture their experiences and sentiments while they are still fresh in their minds.
Research by Quatrics showed that 93% of customers read online reviews before buying a product. And BrightLocal revealed that 79% of customers trust online reviews just as much as personal recommendations these days.
Amazon's customer review system has become a trusted source of feedback for many of us, enabling shoppers to make informed purchasing decisions and fostering a sense of community.
Customers will likely spend 31% more on a business with "excellent" reviews. However, businesses risk losing as many as 22% of customers with just one negative review and up to 59% with three. (source: Qualtrics)
Leveraging Social Media Listening and Engagement
We often immediately turn to market research to gather information about our customers. But there are many other ways to connect, many of the online sources are even free!
Monitoring brand mentions and conversations: Monitoring brand mentions and conversations on social media platforms allows an organization to track customer sentiments, identify trends, and proactively address issues.
A study by Sprout Social found that 13% of US consumers expect brands to respond within the hour on social media, while 76% expect a response in the first 24 hours – up from 56% just two years previously! Therefore it is essential to respond rapidly when customers use this means of communication, which is rapidly replacing more traditional contact centres
By promptly addressing customer inquiries and concerns on social media, organizations demonstrate their commitment to customer satisfaction and thus foster improved brand perception.
Engaging with customers on social media: Active customer engagement on social media platforms is also crucial as it enables companies to build relationships and enhance their customers' experience. By responding to customer queries, addressing complaints, and participating in relevant conversations, organizations can demonstrate their dedication to their customers as well as their satisfaction.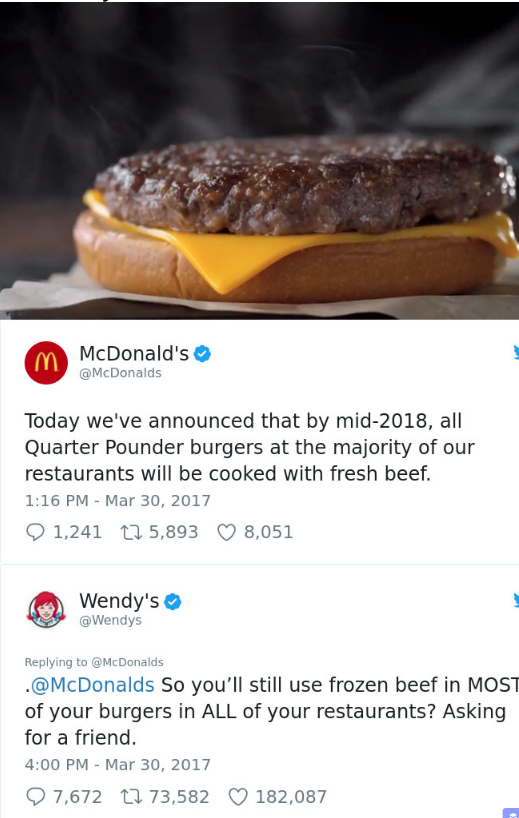 Wendy's, a fast-food chain, gained widespread attention and positive brand sentiment by engaging in humorous and timely responses on Twitter. You can see just one example on the left. Click the image to see more.
This engagement not only strengthened customer relationships but also generated viral brand exposure.
Gathering insights from social media data: Organizations can extract valuable insights from social media data using techniques such as sentiment analysis, keyword tracking, and social media analytics, as previously mentioned. These methods enable an understanding of customer preferences, perceptions, and emerging trends.
A study conducted by Hootsuite revealed that 68% of consumers share positive experiences on social media. By analyzing such data, organizations can identify positive sentiments, as well as brand advocates and areas where their offerings resonate with customers. These can then be further enhanced to drive improved brand image and trust.
Turning Insights into Action
Once information has been gathered about the customer's experience, it needs to be actioned if a business is to improve its performance and rating.
Data Analysis and Interpretation: Data analysis and interpretation play a significant role in extracting meaningful insights. Techniques such as text-mining, sentiment analysis, and qualitative analysis help uncover hidden patterns and extract actionable insights from customer feedback and social media data.
For example, a well-known retailer demonstrated that analyzing customer feedback using text-mining techniques led to a 15% reduction in product return rates. By mining data for valuable insights, organizations can make data-driven decisions and implement improvements aligned with customer (changing) needs.
Collaborative Cross-Functional Efforts: Cross-functional collaboration is essential for effectively implementing improvements. Organizations can foster collaboration between customer service, product development, and marketing teams to ensure that customer insights are shared and acted upon.
Procter & Gamble, well known for its early adoption of a customer-centric strategy, fosters collaboration by bringing together teams from various departments to brainstorm and ideate improvements. By working together, these teams can leverage their collective expertise and align their efforts to enhance the overall customer experience.
Those of you that have followed my highly acclaimed Insight Development Masterclass for Marketers and Market Researchers will know that I am a huge fan of cross-functional teams for effective and immediately actionable insight development. (If you're interested in accessing the course at a special rate, click on the button below and get it for half price (US$49.99)

Continuous Improvement and Iteration: Embracing a culture of continuous improvement and iteration based on customer feedback is vital for long-term success. By continually learning, experimenting, and innovating, organizations can evolve their offerings to exceed customer expectations.
Netflix is a great example of doing this. They regularly test new features and user interfaces based on customer feedback and data analysis. This iterative approach allows them to continuously enhance their streaming service and provide a personalized experience. I suppose that's how they get us hooked once we start experimenting with their films and series.
Conclusion
Real-time customer feedback and social listening are indispensable tools for organizations striving to deliver exceptional customer service. By actively listening to customers, leveraging real-time feedback, and engaging in social media conversations, organizations can gain valuable insights, enhance their offerings, and build strong customer relationships.
The examples and statistics I have presented are just a few of the case studies that highlight the power of these practices in driving customer-centric strategies and fostering loyalty.
To thrive in today's competitive marketplace, it is essential for organizations to unlock the potential of real-time customer feedback and social listening to drive exceptional customer service.
If you would like help in maximising the benefit of real-time customer feedback, why not book time in my agenda to discuss your options?