Our customers are getting smarter every day. But are we performing smart marketing too? I don't think so.
When I have the chance to look at what most organisations are doing, I see that they are still living in the past of traditional media and have hardly dipped their toes into new media. Or they are using social media but still treating it as if it is traditional media! Neither plan will work. Here's how marketers should be reaching, connecting and engaging their customers.
1. Don't talk to everyone
We all know that you can't please all the people all of the time, so why are we marketers still mass producing our messages? In the past, the annual marketing plan requirement was for us to develop a few ads for each of our planned campaigns.
Today with social media, we need a constant flow of new ads and new campaigns, each targeted at a sub-group of our audience, with individual messages. We need to not only to be mobile, but flexible, adaptable and ready to take advantage of any opportunity, the moment it happens.
One  of the best examples of this is still Oreo's reaction to the power outage at the Superdome during the Super Bowl XLVII in 2013. The cookie's social media team jumped on the cultural moment, tweeting an ad that read "Power Out? No problem" with a starkly-lit image of an Oreo with the caption, "You can still dunk in the dark." Read more in this article on Wired.
Since then, we have seen a few more brands "stage" similar events during the Super Bowl; I'm referring to Tide and Snickers of course. What all these memorable moments have, is a deep understanding of both the audience – in this case of the Super Bowl – and their target customers.
Smart marketing focusses on understanding the customers of a targeted group of category users. And accepting to ignore those that don't fit, even if they are currently using the brand. Are you brave enough to do the same?
2. Stand out from the crowd
A recent article in Forbes by Larry Myler mentioned and-out-in-a-crowd-of-competitors/#c0dbd4762fa9″ target="_blank" rel="noopener">7 ways for a br>and to stand out from the crowd. These were:
Provide Legendary Customer Service.
Admit Mistakes and Fix Problems to Build Stronger Relationships.
Be Honest About Your Products and Services.
Come Up With Something New.
Embrace Corporate Social Responsibility.
Start a Blog.
Offer a Guarantee.
What I find interesting about this list is that the first four concern customer service excellence, but the last three are more about the organisation. OK so they should also impact the customer, but not as directly as the first four.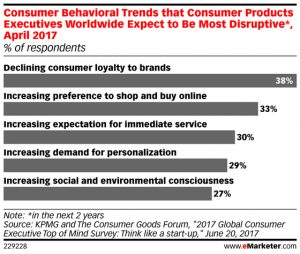 The other thing, for me at least, is that I don't think any of these will actually make a brand stand out from the crowd! After all, they are the table stakes for the social world we live in today. What do you think?
A survey … Read the rest