If you commission or conduct market research, then this post is a must-read. It shares ten important reasons I have learnt over the years for NOT running a market research project, but which are unfortunately still prevalent today. Which, if any, are you guilty of? Leave your comments below – I dare you!
#1. WHEN THE ISSUE / OPPORTUNITY IS NOT CLEAR AND THE OBJECTIVES ARE NOT WELL DEFINED
Most organisations will have a briefing of some sort, written or oral, for each piece of research that is required. It usually includes the background to and the objectives of the project. These should be specified in terms of the opportunity or issue identified, as well as the relevant information and data already gathered and analysed.
If the briefing doesn't include these basic elements, it might mean that someone wants to know or understand something and just thought research could quickly provide them with the answers. Wrong! The best studies come from a thorough situation analysis which should include a complete review of all current knowledge and past research findings.
The best MR studies come from a thorough situation analysis which should include a complete review of all current knowledge & past research findings. #MRX #CustomerUnderstanding
Click To Tweet
#2. WHEN THE COST WOULD EXCEED THE VALUE OF DOING THE RESEARCH
Following on from the above point, when requesting a study, if the objectives are well defined, then the decisions and actions resulting from the findings should be clear. If they are, then the expected benefit of the information to be gathered will be evident.
Thinking about how you will use the data and information gathered is one of the best ways to estimate the true value of a piece of research. If the decisions and actions to be taken cannot be clearly expressed, then the research results will be just "nice to know" and not "need to know". It also suggests that the objectives have not been well defined and I would suggest you revise them before continuing.
#3. WHEN THE BUDGET IS TOO SMALL TO DO AN ADEQUATE JOB
Most agencies would agree that clients often want a top-class work, but at a lower price than it would cost. Some clients even make a point of negotiating all prices downwards on principle. But this is a bad and futile habit. Their reputation soon goes before them. Agencies will then start adding an amount that they will remove in answering the client's request for a cost reduction. If an agency is to become a true partner then transparency is one of the foundations, in both directions.
A second example of this aspect of cost is when a client wants to do research but doesn't have an adequate budget to cover it. They may be tempted to request something "quick and dirty". My recommendation to any agency who received such a request would always be to refuse to get involved. If it is worth doing it is worth doing well, and a good agency will always work with the client to accommodate their needs as best they can within the budget available.
You have heard, I am sure, that any project has three parameters: price, speed and quality. You can have two but never all three – yes even in today's digital age where some agencies may claim that you can have all three!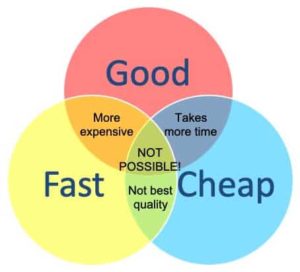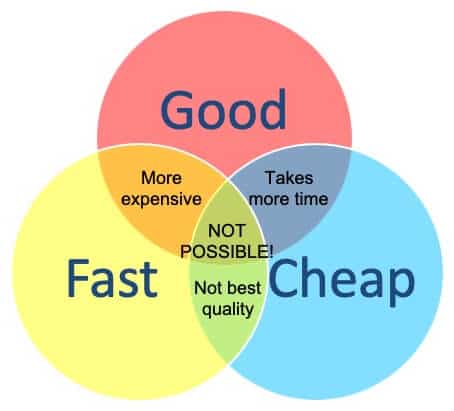 This completes my list of the ten reasons NOT to conduct market research. If you check them before commissioning any work, it will ensure that resources are used correctly. Both client and agency will be happy with the outcome and everyone wins.
Do you have another point you think should be on the list? Then please share it below.
Be a Star! Please forward this post to all your colleagues and followers online who you think could benefit.
If you are struggling with your own market research (department) then we should talk. Check out our relevant 1-Day Catalyst Training Courses on our website and then contact me to discuss your own needs. All our courses are adapted to your precise needs and integrated with all your current internal process for maximum impact.