Technology is often seen by marketing as a disruptor of business as usual, but it isn't. Technology is in fact an enabler, at least when used properly and appropriately. So what is disrupting business as usual? It's the customer, especially in industries that are not customer-centric.
It was Marco Pacheco, Executive Director at JP Morgan who first inspired me to talk more about this aspect of a customer-first strategy, when he shared the slide on the right on LinkedIn a few years back. 
I had already been speaking about the need for businesses to prepare for the dramatic change that was coming thanks to technological innovation. However, it was Pacheco's slide that made me realise why I was so keen on companies adopting a customer-first strategy and running scenario planning.
His five simple examples brought it home more powerfully than I have ever done before. That's why I wanted to share it with you. The summary says:
Netflix did not kill Blockbuster, ridiculous late fees did.
Uber did not kill the taxi business, limited taxi access and fare control did.
Apple did not kill the music industry, being forced to buy full-length albums did.
Amazon did not kill other retailers, bad customer service did.
Airbnb isn't killing the hotel industry, limited availability and pricing options are.
In conclusion it states that:
"Technology by itself is not the real disruptor. Not being customer-centric is the biggest threat to any business."
That's music to my ears!
Looking again at the five examples he gives, there are a number of specific aspects of customer-centricity that are highlighted. In my opinion they show the following advantages for the customer:
freedom of choice
transparency
trust
being valued
If you don't want to see your own industry fall victim to start-ups that better provide these, then now is the time to act. Or rather if you're not already on your journey to adopting a customer-first strategy, you're probably already seeing a slowing, if not actual decline, in your growth and profitability.
The Future of Many Industries is Unthinkable
By this I mean that change is happening so fast that it is difficult for organisations to even imagine the future. This is why I encourage my clients to develop plausible future scenarios, rather than merely follow trends. Only by doing so, can they be prepared for every possible risk and opportunity. Identifying one, most likely future is unlikely to deliver the variation that will no doubt happen. For more on this topic, read "5 Business Success Factors (So You're Ready for Anything!)"
As I mentioned at the beginning, technology is an enabler that permits industries to provide more of what their customers want. There are already many examples of ones which have been helped or radically altered by technology and science. For example: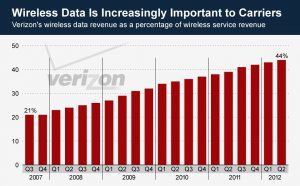 TELECOMS now make as much money from selling (geo-localisation) data than they ever did from selling phones and lines.
Already back in 2015, data accounted for 44% of Verizon's profits, as shown in this Adage article. Continue Reading