What's your gut response to the title question about eliminating Market Research Departments? Yes? No? It depends?
I am probably in the third camp. No, if it is a department that integrates and analyses information from multiple sources, and then delivers actionable insights and recommendations. Yes, if it is the traditional market research department. Let me explain.
Thanks to social media and websites, the IoT (Internet of Things) and smart products, companies are inundated with information these days. Who better than market research to help in its analysis? But in order to become this new business decision support group, new skills are required.
Insights 2020 by Kantar-Vermeer spoke about the need for researchers to have five critical capabilities:
Research & analytics mastery
Business acumen
Creative solution thinking
Storytelling
Direction setting
This research is now a few years old and the world is changing fast. A more recent study by BCG and GRBN resulted in an Invest in Insights Handbook to help organisations report on the ROI of the insights function. They found that those who measure their ROI have found a seat at the decision table, increased budgets, and more control. Those are the department objectives that the FMCG world in particular desires today, be they in a manufacturing or retail environment.
As the handbook mentions:
"Architecting a world-class Insights organization requires executive, cross-functional commitment/engagement"
To do this, they mention the following six points:
Vision & Pace
Seat-at-the-table and leadership
Functional talent blueprint
Ways of working with the Line
Self-determination
Impact and truth culture
The report concludes that:
"The biggest barriers to experimenting with innovation in CI are resources, both time and money. A lot of times there'll be [a need for] an innovation project but it can't find a home."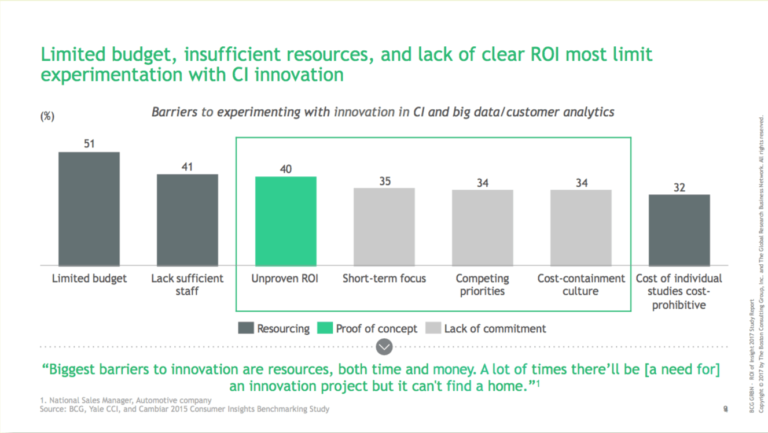 This seems to suggest, at least to me, a chicken and egg situation. Resources are insufficient because the business doesn't see the benefit of investing in market research and insight. But the Market Research Department is struggling with insufficient budget and personnel to provide the support that they should – and often could – provide.
In the GRBN report, they mention the largest barriers to the measurement of the ROI of market research and insight. These were found to be:
Difficult to do – studies are used in many different ways
Difficulty in isolating impact of consumer insights
Time lag between insight delivery and business results
The secondary concerns are:
Consumer insights distant from business decision-makers
Business objectives not clearly defined
Insufficient staff to measure
Lack of alignment on important metrics
Looking at this list, it is clear that the market research profession is in need of a significant overhaul. Most local MR associations, as well as the global ESOMAR team are all very aware of this and have set up various groups to look into it. If you want to learn more about what they are doing, check out the discussions on the topic in last year's ESOMAR conference in Amsterdam. You can also read a short commentary from System 1. Continue Reading