It is more than a year ago that Coca-Cola did away with their CMO in favour of a Chief Growth Officer. Was it a wise move or foolhardy?
In a recent interview with Marketing Week their global vice-president of creative claims that it has "broadened" the company's approach to marketing. Well something is clearly working for Coke; at the end of last month it reported higher-than-expected financial results for Q3 2018. So what do you think? Will you replace your CMO?
HOW MARKETING HAS CHANGED
Marketing is an old profession. It's been around for hundreds of years in one form or another. If you're like me and are fascinated by how change happens, then I'm sure this complete history of marketing Infographic by Hubspot will be of interest.
With the arrival of digital marketing in the early 80's, many companies began to take a serious look at their marketing. They realised that their primarily outbound strategy had to change. Their consumers didn't appreciate being interrupted in their daily lives. However, with the creation of inbound marketing, they still irritated their consumers with spammy emails, popups and "subtle" cookies for following their every move. No wonder the EU felt inclined to develop its GDPR (General Data Protection Regulation).
What has changed during 2018 is marketing's deeper awareness of, if not complete adherence to, what customers like and dislike. The major trends that we have seen this year and their impact on marketing, include:
Chatbots, especially through Facebook Messenger and WhatsApp, to catch consumers on the go with highly personalised messaging.
The use of Voice. With the battle between Amazon, Microsoft and Google in the voice search and commands domain, customers can get answers just by asking. These are a huge challenge for businesses, because being on the first page of search results is no longer enough; you have to be first!
Video is taking over social media, with its rapid rise on YouTube, Twitter and Facebook.
Influencer marketing is giving way to customer journey mapping with the increased detail that IoT can provide. Many organisations have moved their marketing plans to mirror their customers' path to purchase. Or rather paths, as personalisation continues to trump mass engagement.
Blockchain technology has made marketing results more transparent. This is good for business as customers see how their data is being used, which builds trust.
Have you taken these megatrends on board and adapted your marketing this year? If not, why not? 
BRAND BUILDING
In the past decade or so, many large CPG companies such as P&G  and Nestle renamed their Marketing departments as Brand Builders, in the hope of adapting to this new world. They failed, miserably. I believe the reason they failed is because they continued to run their marketing in the same old way. With very few exceptions, their communications are still all about them  and their brands  and very little to do with their consumers.
Luckily, some more progressive consumer goods companies realised that to satisfy the consumer they had to do things differently. They were the ones that moved to consumer centricity. Or to be precise, they started on their journey towards putting the consumer at the heart of their business. Consumer centricity is not a destination because consumers are constantly changing and their satisfaction never lasts for long. Therefore the aim for satisfaction and delight will never end. 
It is interesting to see how Coke's change to a growth officer pans out. I don't see other companies following for now, so I suppose they are prefering to just wait and see.
Consumers are constantly changing & their satisfaction never lasts for long, so the aim for satisfaction & delight will never end. #brand #Marketing #CEX #CRM
Click To Tweet
We have taught our consumers far too well! They understand a lot more about "marketing" than they used to. They understand that companies have marketing plans and regular promotions, so they wait for their price offs. They realise that in today's world, products have become more and more similar. Their format, colour or perfume may be different, but their performances are pretty comparable.
That's why consumers now have a portfolio of brands from which they choose in many categories. They are far less likely to be loyal to only one brand than they used to be. They have come to expect constant innovation so they quickly adapt to the once novel idea and start searching for the next big improvement. According to Accenture's " Customer 2020: Are You Future-Ready or Reliving the Past?" almost a half of consumers believe that they are more likely to switch brands today compared to just ten years ago.
Consumers believe that they are more likely to switch brands today compared to just ten years ago. @Accenture #CEX #CRM #Consumers #Marketing
Click To Tweet
CUSTOMER CENTRICITY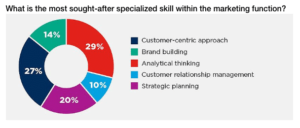 In response to these ever more savvy customers, marketing has to change, to become smarter. In the  2015 Korn Ferry CMO Pulse Report, it is confirmed that marketing needs new skills. The most sought-after skills today are analytical thinking and customer centricity.
Marketing is now as much a science as it is an art. We must take full advantage of the enormous quantity of data about our customers that is now available; we can no longer rely on creativity alone to connect.
For more ideas about improving your customer centricity, why not join the FREE Customer Centricity Champions Webinar? It shares many tips, tools and templates to catalyse your business and improve your customer understanding immediately.

HOW TO KNOW IF YOU'RE CUSTOMER CENTRIC
Companies which place the customer at the heart of their business are easy to recognise. Their websites are filled with useful information, entertaining videos and games, and their contact page provides all possible forms of communication.
Their advertising is clearly customer centric and emotional, with the customer and not the brand as the hero. They involve their customers in many aspects of their business. (see  "The exceptionally easy and profitable uses of co-creation" for more on this topic.)
If you're not sure how good your customer centricity is, just take a look at your own website, especially the contact page. Or why not complete the C3C Evaluator? It's free!
MOVE BEYOND BRAND BUILDING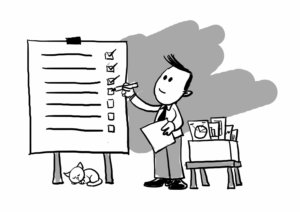 Whether you are still doing marketing or have already moved to brand building, here are a few of the essential first steps that you need to urgently make to adopt a more customer centric approach:
Place pictures of your customers everywhere, so people start to naturally think about them. This can be at the beginning and end of presentations, in your office reception, on the lift doors or anywhere employees spend time.
Whenever a decision is taken, ask "What would our customers think about the decision we have just taken?" This will avoid such practices as hiding price increases by reducing pack content without telling the customers. Or asking credit card details for the use of a "free" trial, in the hope that the customers will forget and be automatically charged for a service they may not want. What would our customers think about the decision we have just taken? If they wouldn't like it, it is wrong. #CEX #CRM #Customer #Business #Decision Click To Tweet
Review the language of your website. If there are more "we's" than "you's" then you know what to do. While you're online, check out your contact page for possible improvement opportunities, as detailed above. Look at your website; if there are more 'we's' than 'you's' then you know what to do. You're not thinking customer first. #CEX #CRM #Customer Click To Tweet
Take a look at your target customer description or persona. When was it last updated? If you don't even have a written document clearly describing them, then use C³Centricity's 4W™ Template until you develop your own. (you can download it for free  here)
Examine your advertising. Who is the hero? Consider developing concepts that are more customer centric, by making use of your understanding of them and their emotional triggers.
Spend time with your front-line staff and customers. Make use of call centers, in-store promotions and merchandisers to talk to your customers, as well as to the employees who connect with them. They will almost certainly be able to tell you a lot more about your customers than you yourself know.
Share your latest knowledge about your customers with the whole company. Help every employee to understand the role they play in satisfying the customer. Make them fans of your customers and you will never have to worry about such questionable practices as those mentioned in #2.
These are your starter tasks for moving from marketing and brand building to adopting a customer first strategy. If you'd like more suggestions about moving to a future-oriented marketing approach, download a free sample of my book "Winning Customer Centricity". The fun drawings in this post come from the book!
This post is based upon and is an updated version of one first published on C3Centricity in 2016.