All marketers know their marketing 5Ps, but how do you update your marketing when you adopt a customer first strategy? Here are some tips and ideas for you to adopt – or adapt.
People
This is the easiest of the marketing 5Ps for a customer centric organisation to adapt because a customer first strategy is all about your customers. However, in recent years, there has been a lot of talk about the importance of employees, some even suggesting that they are more important than customers!
I discussed this in detail in a post a couple of months ago, called " Customers Care About Products & Value, Not Employees." Click the title link to read my perspective on this topic.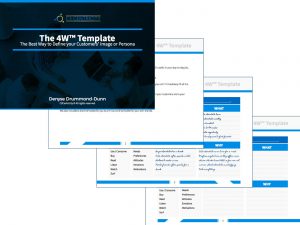 Personally, I believe that customers are your biggest asset, as they are the ones who pay your wages and make your business thrive. It, therefore, makes sense to know them intimately. If you have a different perspective I'd love to hear it; just add a comment below.
In C3Centricity we use the 4W™ Template to record and describe the customer personas of our clients' brands.
If you still haven't downloaded our FREE persona template, CLICK HERE to get your free copy and instructions.
In addition to knowing and describing your target customers in detail, the other tip I give when you want to update your marketing when you adopt a customer first strategy. is to start and end every meeting by asking the "magic question." What is it? It is this: "what would your customers think about the decision you have just taken?"
This one simple idea is incredibly powerful in identifying actions which are not customer centric. I will give examples of these in the remaining 4Ps below.
So a customer-centric approach to your customers is both thinking about them in every action you take, as well as knowing them as deeply as you can and keeping this knowledge constantly updated.   
Product
This is often seen as the most important to address when you decide to update your marketing. After all it is what you are selling. It is also the one thing you think about day in and day out. But it's not the most important in a customer centric organisation. Surprised?
Think about it for a second. Without knowing the P for people in great detail, you won't be able to optimise your offer in terms of the other four Ps. That's why it's a customer first strategy that works better than any other.
[bctt tweet="Without knowing the customer in great detail, you won't be able to optimise your offer of the other Marketing 5Ps #Marketing #Brand #CMO" username="Denysech"]
Here are some examples of how companies realised they get their product wrong when adopting a customer first strategy and a couple of right actions for inspiration: 
…
Read the rest