Which did you answer subconsciously when you read the title? Do you consider your packaging to be a part of the product, protecting its contents and framing its on-shelf life? Or do you consider it to be an integral part of your connection with your customers at an important moment of truth, that of purchase and usage?
If you answered both, then I believe that you are making maximum use of your packaging or at least you recognise its potential for communication.
If you answered only one of the choices, then you may be missing an important opportunity. Let me explain, with a few examples.
People don't read instructions
We all expect most things that we use or consume to be intuitive these days. In other words, we assume that we will understand how to build / cook / use them without reading the manual / instructions.
We all expect most things that we use to be intuitive these days. We assume that we will understand how to build / cook / use them without reading the manual / instructions. How intuitive is your brand?
Click To Tweet
If you are like most people – myself included – this has nothing to do with the complexity of the product concerned . I myself will only turn to the instructions when something doesn't work: I end up with left-over screws when mounting a flat-pack piece of furniture, or I can't achieve multi-recordings on my smart TV or DVD recorder.
In the article How Likely Are You to Read the Instructions they  they link behaviour to personality types. It makes an interesting read and offers at least some explanations why many (most?) of us still don't read instructions.
As internet results in us having access to more and more information, we seem to be reading less and less. Therefore we need to ensure that any vital information is called out in some way on the packaging – and perhaps visually as well.
People do look at packs
Whether it is the cream we put on our faces, the cereal we eat for breakfast, or the dip that we offer to friends on match night, there are moments when we are faced with packaging for more than a split second. It is at these times that we are likely to read at least some of what is written on a pack.
It therefore makes sense to provide more than just a list of ingredients. After all you have your customer's attention.
Here are a few examples I have come across recently:
Nestlé does a great job of providing useful information on their packs with their nutritional compass, which includes four different pieces of information.
What I particularly like about what Nestle has done, is to combine mandatory information on nutritional values, with useful information for the consumer. While they may not be the most consumer centric company around, at least they did think consumer first in the development of their compass.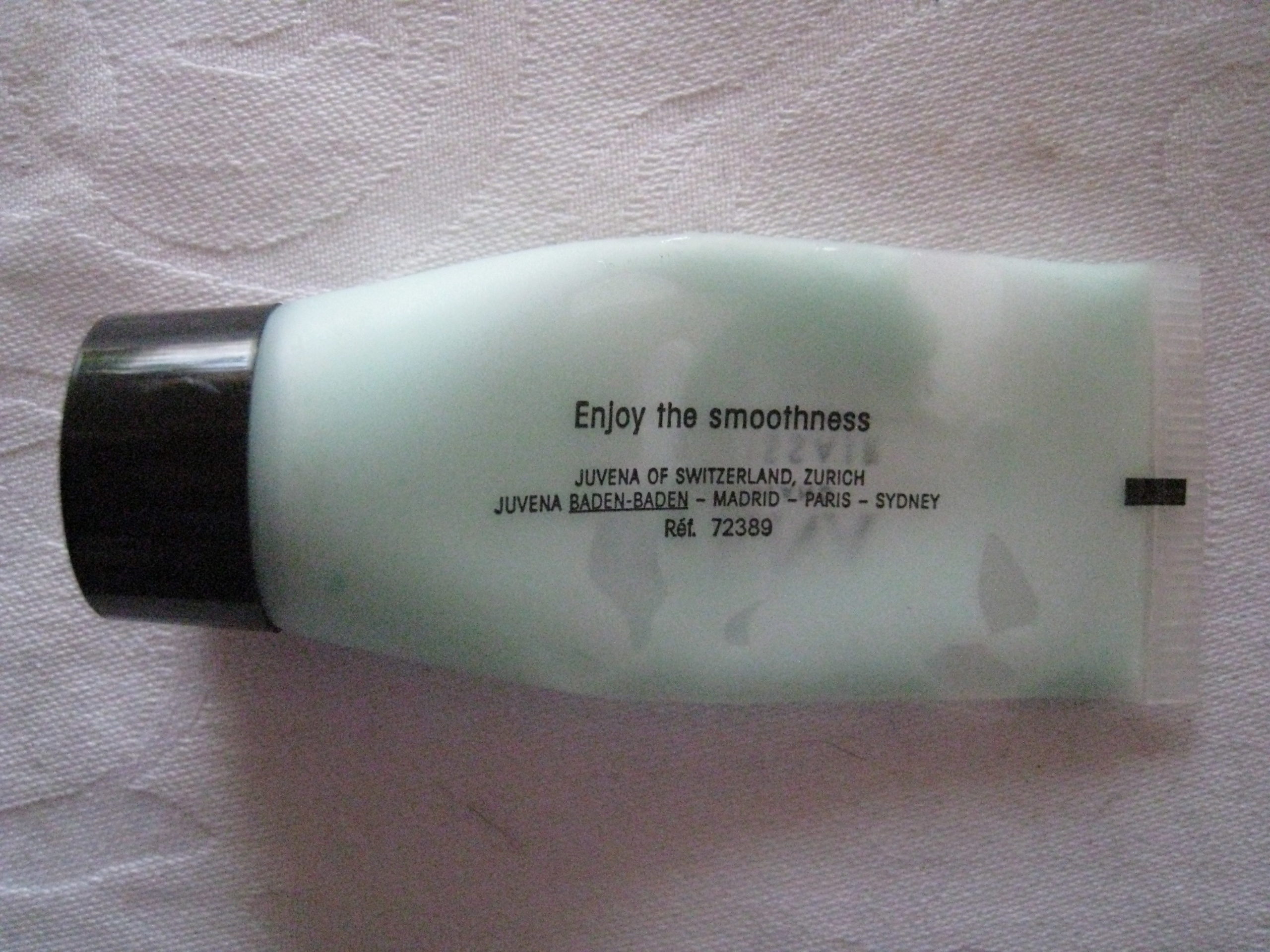 Juvena of Switzerland: The short message to "Enjoy the smoothness" on the back of the Juvena hand cream sample tube I recently received makes the usage experience both more enjoyable and longer-lasting.
Users will almost certainly check out the promised smoothness after their application, bringing to their attention a benefit that might otherwise have gone unnoticed. Clever.
Yucatan Guacamole: I love Mexican food and especially guacamole. The message I discovered on the inside of a tub I bought in the US, made me smile.
The manufacturer has turned what could have been perceived as a negative, into a healthy positive. I just love that.
While you may have to click on the image on the right to be able to read all of the message, their website is very clear. Now that's what I call impact!
Pringles have done something similar with their "Bursting with flavour" message. Again it explains what some might have perceived as a negative – the bulging top – into a positive.
They used to put this only on the inside seal, but they have obviously understood the power of this message since they have now added it to the pack as well, as the photo on the left shows.
Heinz Tomato Ketchup: A final example, also from my trips to the US is a ketchup bottle that had a very important message on front of pack, as you can see from the photo on the right.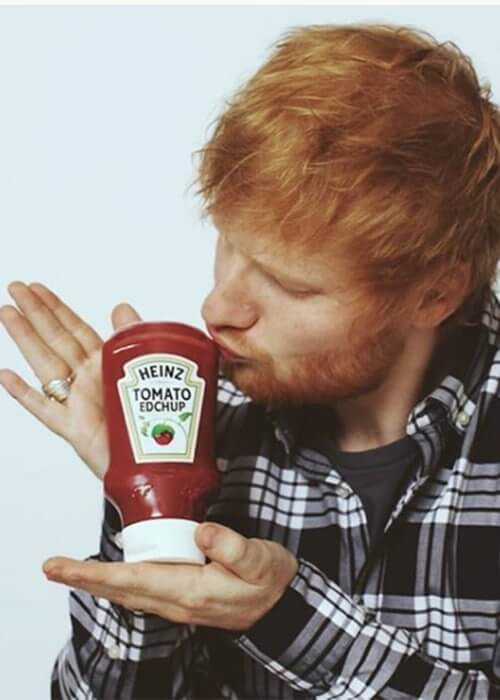 Heinz now uses their front label to announce many of their initiatives and promotions. It has become something that consumers are used to seeing - and reading.
A fun campaign they started running in 2019 with Ed Sheeran includes a pack label change - of course! The accompanying TVC ad shows Sheeran adding ketchup to a dish in an exclusive restaurant. While it is funny, I am not sure the anguish many will feel watching it is positive. What do you think?
These are just five examples of companies using their packaging more creatively. There are many others. If you have a favourite example then please share it in the comments below.
If you're not confident that your packs are optimised to connect with your customers, why not get us to run a pack audit? We will review all your packs and discuss how you can make them more customer centric. Why not communicate with your customers when they are ready to listen, as they use your product?
People are willing to help you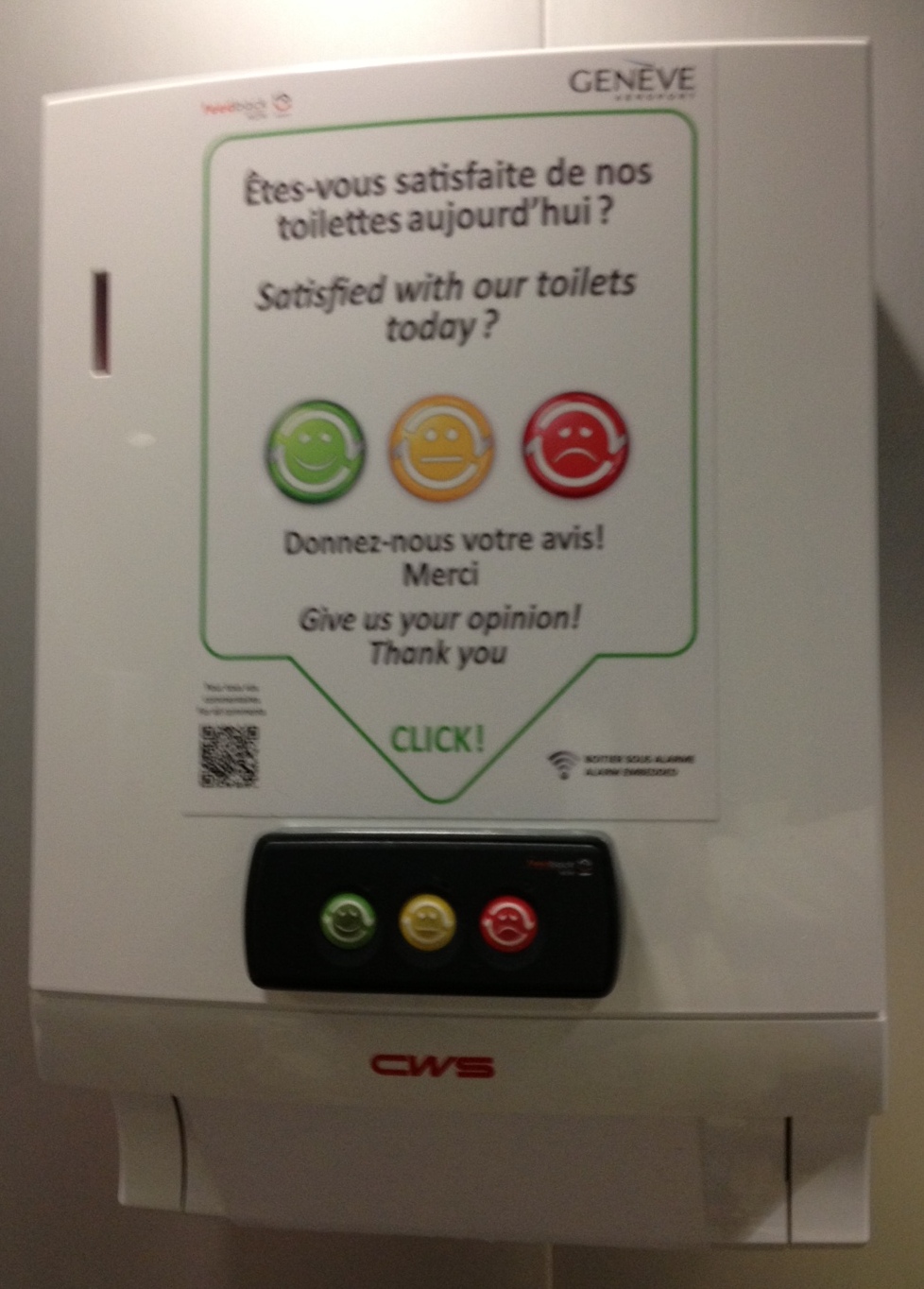 Creative messaging needn't be limited to packaging of course. I came across this incredibly simple solution for gathering customer feedback in a Geneva airport toilet (restroom). That was five years ago, but they seem to be everywhere these days. This shows how instant customer feedback has become a necessity in so many industries.
What I liked about it, is its simplicity, it's fun look, and its lack of invasion of customer's time in providing their feedback.
Our customers' time is valuable and we should respect it. The information we provide must be relevant and useful for the customer; something they would like to know, not (just) something we want to tell them.
Our customers' time is valuable and we should respect it. The information we provide must be relevant and useful for the customer; something they would like to know, not (just) something we want to tell them.
Click To Tweet
We also need to be careful to connect only when invited, or find other ways to provide information that a customer can access when they need it. This is why social media has become such an important element of the communications plan. However, packaging has not, as yet, met with the same level of consideration.
Our customers' attention is pulled in all directions today, with thousands of messages pushed at them, from so many channels, products and services. Capturing their attention is more likely to be successful when they are open to learning about your product, that is to say, when they are actually using it. It therefore makes good business sense to use packaging more creatively; wouldn't you agree?
For more information on the support we can provide in product innovation and branding, please check out our website here: https://www.c3centricity.com/training
This post is regularly updated and expanded from the original published on C3Centricity.