If you work in consumer goods you probably think you have nothing to learn from healthcare, right? After all, you have consumers in your industry name and well healthcare's reputation is not that great.
But think again. I was recently in a clinic for surgery and was surprised by how customer (patient) centric they are.
I remind my clients that exceptional customer service examples can come from anywhere! So they keep their eyes and ears open and find inspiration everywhere. Do you? If not, then these lessons will come as your wake-up call so you start opening your eyes to new possibilities. Do this every day and your business will only get better.
Background
Before I give you the lessons I learned, I think I owe you a little background to what led up to this list.
I had been suffering from a bad back for a while. Unfortunately, not so unusual for those of us who spend too many hours at our desks. However, one morning I tried to get out of bed and fainted as an explosive pain shot down my back to my right foot! I was totally immobilised in three seconds flat!
Now living alone I realised that this was serious as I couldn't move. Luckily my mobile was by my bed so I called the emergency services who immediately sent an ambulance. I ended up spending a night in a local University Hospital for the first time in my adult life.
However, the story doesn't end there. Two days later I fell down the stairs because my leg had become partially paralysed. Another visit to the emergency room, an ankle brace fitted, a consultant's assessment, an MRI scan and finally emergency surgery the following day.
All these experiences of hospitals and doctors gave me the superb opportunity to see the health service from the patient's perspective. I work a lot with the Pharma industry but luckily have never been a patient, at least until now.
As you probably know, actually becoming your customer and seeing the market from their perspective, is one of the exercises I suggest to better understand them. How often do you do it? Ever?!! You really should, because you're missing out on a valuable – and free – experience.
Perhaps surprisingly, this incident showed me that many of the practices of the nurses and doctors that I witnessed in my heavily sedated state, are easily transferable to any business. This is why I decided to share them with you.
So here are my seven learnings about customer service excellence:
1. Introduce yourself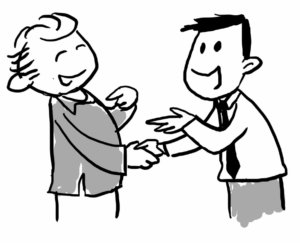 Every time someone came to my room, they introduced themselves and explained why they were there. Over the course of the days I spent at the hospital and then the clinic, I saw many different doctors, nurses. cleaners, waiters etc. I appreciated that they themselves always started by introducing themselves and stating what their responsibility was in caring for me.
How you can apply this idea: In business, we often forget to introduce people in meetings and when we do, we forget to explain their responsibilities, why they are there. Continue Reading