Everyone is talking about customer first strategies and why they are important. However walking the talk is a different matter!
An interesting article on NewMR by Ray Poynter prompted this post. He spoke about the differences between customer focus and customer centricity and the often times confusion between the two terms. That is why I tend to speak about customer first rather than customer centricity these days.
In its simplest form a customer first strategy is about thinking customer first in everything you do. Yes I know it sounds easy, but it really isn't. And it doesn't come naturally, at least to start with. I believe that's because it involves a culture change to move the organisation in this direction. But I can assure you it's worth it; its value is now well proven.
If you would like to see some exciting statistics about the value of making your customers the heart of your business, then CMO.com has a great article. It's called "15 Mind-Blowing Stats About Customer Centricity" and many of the research results reported are still valid today, so it's definitely worth a read.
What Are Not Customer First Strategies
I have seen a customer first strategy defined as
"a strategy by which businesses create their products, content, and marketing campaigns so that they serve their customers first, and their organization second."
I don't agree! If you don't think about your organisation then it will likely fail! That said, I am also a little sensitive to the comments of Sir Richard Branson, who says
"Clients do not come first. Employees come first. If you take care of your employees, they will take care of the clients."
This may be true for an airline, where the client is primarily basing their opinion on the service on board and the "niceness" of the crew. After all, every airline will get you from A to B.
However for many industries, customers are enjoying (or not!) your product or service without your employees being present. They will remain loyal (or not!) to your brand, based upon their own personal experiences, at least in most cases.
A customer first strategy is therefore not about only thinking about the customer. It is about understanding how best to serve them in such a way as to delight them, while keeping your employees and shareholders happy. This is relatively easy to do because when the business is going well, all stakeholders are happy.
What Customer First Strategies Are
Econsultancy asked what effective leadership in the digital age is. Several key leadership qualities were found, including being ruthlessly customer-centric, data-driven, innovative, collaborative and agile. I am thrilled to see customer centricity coming first by a long margin.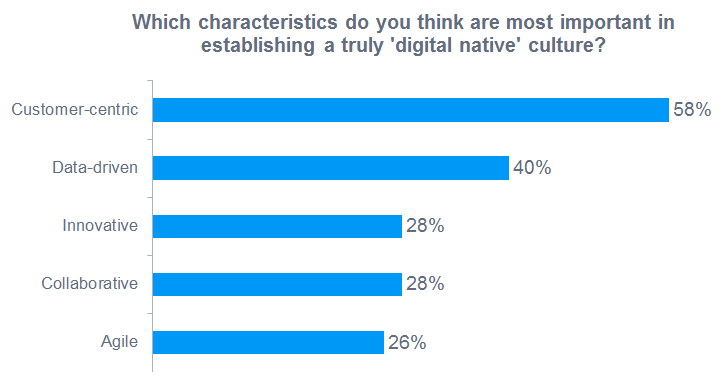 So the leaders have got the message, but what are they doing about it? Not a lot in many cases. And why? From my experience it is because they just don't know where to start or what to do. (If that's your situation, try our … Read the rest