Although there is no magic bullet to transform your business into a successful powerhouse, I have witnessed similarities amongst those that grow more profitably. And what they have in common is the process steps of their business projects. Why not compare your own to the elements below and see how good yours really are?
Here are my 7 secrets to managing a successful business project. At first view, you might think that they are rather basic, but can you confirm that you have them for every project you run? If not, then they are well worth checking out. And they will be useful to you, whether you are just starting out or are looking to take your business to the next level.
1. A Support Team
As is often said to motivate us into exercising more:
"Change is more fun when there's more than one."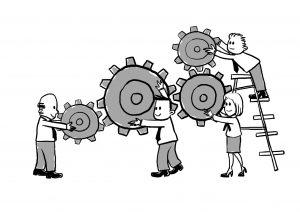 But this is relevant in business too. No-one ever changed a company, let alone its culture, by working alone.
Therefore start by gathering together a group of like-minded people as your support team.
If you are a solopreneur, like myself, then this is even more important, if not vital to your success.
[bctt tweet="If you are a solopreneur, getting support is vital to your success. #business #businessprojects #entrepreneur" username="Denysech"]
You must have a sounding board to share ideas and get differing perspectives. People you can meet for a coffee or lunch so you don't spend your days in your (home) office, behind your desk and in front of your computer.
Social media and Facebook groups are great for daily connections, but nothing beats the more intimate face-to-face discussions a personal meeting provides. So make sure you include two or three of them in your weekly agenda.
If you work in a corporation, no matter its size, choosing the right group of team members will ensure that you have support to bring about the required improvements. Internal change is more a cultural than a process challenge so a team made up of members across the different departments will provide you with the necessary support.
And what I said about face-to-face meetings applies to you corporate slaves too. Don't always take a coffee or go to lunch with your team or the same group of people. Take the opportunity to discuss with people you don't normally come into contact with. They are likely to be in different departments and have new ideas and perspectives to share.
[bctt tweet="Don't always take coffee or lunch with the same people. Get new #ideas #perspectives #business " username="Denysech"]
2. A Plan
I know, most of us don't like planning, we like action! I'm with you there! But it is a necessary evil, even vital, for success. As Alan Lakein, the writer of several self-help books on time management, is famously quoted as saying:
"Failing to plan is planning to fail"
The content of a plan will obviously depend upon the objectives, but at a minimum, it should include … Read the rest