In 1943 Maslow proposed his theory about people's needs in a paper entitled "A theory of human motivation".
He used the terms Physiological, Safety, Belongingness and Love, Esteem, Self-Actualization and Self-Transcendence to describe the pattern of needs that motivate people. At the time he didn't present it as a hierarchy, nor as a pyramid, but that has become the accepted representation these days.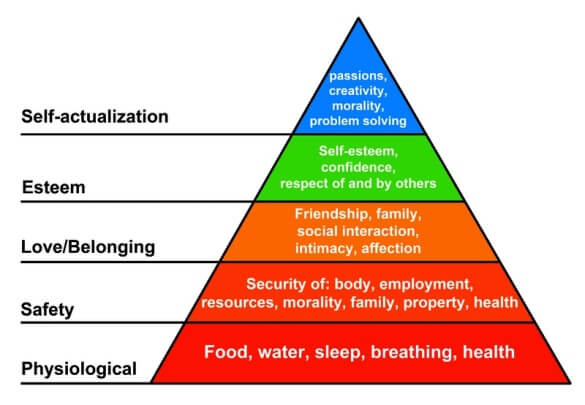 While the hierarchy remains a very popular framework in sociology, management training and psychology instruction, it has largely been supplanted by attachment theory in clinical psychology and psychiatry. However since attachment theory is concerned with how people respond to hurt, separation and threat within relationships, it has less relevance for marketers.
All br ands, products and services should be designed to satisfy their target's needs, so Maslow's hierarchy seems a good framework to use, when defining on what your offer will be based.
If this interests you, and it should especially if your business is global or geographically spread as I will explain below, then here are the three steps for doing so.
1. Satisfying: Firstly identify which of the five needs your br and or service is looking to fulfill. Remember different br ands within the same category can play to differing needs, especially in terms of their communications. Whilst it is generally accepted that the lower needs must be satisfied before higher needs can be addressed, there are exceptions.
Think of consumers in poorer countries who will buy a TV over proper shoes and clothing for their children. In such cases status and in particular consumer emotions are playing an important role, but more of that later.
2. Resonating: Next develop communications for your target audience by incorporating solutions to their relevant needs. These will obviously resonate more quickly and easily with them than pure product or service information alone. They may also be more emotional and will therefore have greater impact on them.
Here are some good examples that I have seen in recent years of easily identifiable needs being addressed through advertising.
– Knorr's packet soup in the UK, based on needs of food, safety and love. See video
– Cartier's corporate campaign from last year, which marked its 165yrs, was appropriately named "L'Odyssée de Cartier" and is clearly based on esteem and self-actualisation.
 – Omo washing powder, one from a long series entitled "Dirt is good", based on safety and love. See video
– Peugeot car, based on self-esteem and status: See video
– UK back seat safety belt buckle-up campaign, based on safety. Warning, the ending is violent! See video
Interestingly, all these are examples from a few years ago. Although newer examples are available, they are not as obviously based primarily on need states as are these ones. I believe one reason for this is the increase in the level of pure emotional content of current advertising. In fact all the above examples use emotions as well in addressing the needs they are looking to answer, which is perhaps why they performed better than many. Continue Reading