Did You Know, That Organisations Which Put The Customer First Grow 7x Faster* Than Those That Don't? No? Then it's time you discovered the Secrets to a Customer First Strategy.
Learn the 4 Focus Areas to Optimise your Brand Building and Customer Engagement.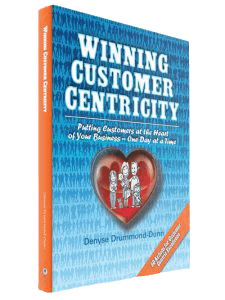 Download the Index and First Three Chapters of my book "Winning Customer Centricity: Putting Customers at the Heart of your Business - One Day at a Time."
This is what each of the Chapters include:

Chapter 1: Show you Care. Simple but effective ways to start your journey to customer centricity. Show everyone in the organisation that the customer matters using the suggested ideas to get the message across.
Chapter 2: Get to Know your Category. Identify where your brand is competing; it might not be in the category you first thought! Use the examples in this chapter to get to know your customers, and those of the competition, really well.
Chapter 3: Run a segmentation. This is the most efficient way to identify the very best customers to target. This chapter shows you how to group your category customers even if you don't have money to run a segmentation study.
As you can see, in these first chapters you will already have laid down the very best foundation to successfully growing your brand.
Once you've started on your journey to customer centricity, I'm sure you will want to continue with the remaining 47 weeks of actions that are contained in the book. 
QU

OTES ABOUT THE BOOK:
"A must-read for today's and tomorrow's marketeers." Paul Polman, CEO Unilever
"Denyse Drummond-Dunn provides hands-on recommendations on how to implement a successful customer strategy execution within 50 weeks! It works; her advice will do wonders for your company and your clients!" Prof. Dominique Turpin, President IMD
"Even if you think that you know your customers, this book will give you some personal epiphanies on your journey to truly knowing who your customers are." Martyn Etherington, CMO Mitel, author of Diary of a CMO
"It is a must read for organizations ready and willing to put their customer needs at the core of business decisions." David Armano, Global Strategy Director Edelman Digital
 "Winning Customer Centricity is brimming with smart, easy-to execute ideas that will help you re-tool your business and put your customers front-and- centre, right where they belong. If you're in business today, Denyse's book is a must-have. No excuses; go out and get it!" Anita Williams Weinberg, CEO VerbStudios
Just Add Your Name And Email Address To Immediately Download Your

 Free Chapters.
What Are You Waiting For?
Companies that a dopt a customer first strategy are more profitable and grow faster. Isn't that what you want for your own business, big or small?
Don't think that these strategies apply only to multinationals. I have small businesses and even entrepreneurs who have found tips and ideas that they have used to grow their business. So why not get started today?
Just add your details and
Download your FREE Chapters NOW!