Heaven is when a brand provides its customers with a positive experience and portrays itself in a consistent, credible and transparent manner, so that they trust it and are loyal. 
Hell is the opposite of all of this.
With the past recession and continued turbulence, retailers and manufacturers are battling to survive, which has often meant the (over?) use of promotions.
UK retailers said to be destroying Category Value
A recent article in the UK's Marketing Week included a comment from Heinz's COO Matt Hill who had hit out at supermarkets for "destroying category value" through steep price promotions. He said the "dramatic acceleration" of promotional activity across supermarkets meant that 40% of grocery sales now come from deals – up from 30% three years ago.
"Retailers are driving footfall promotions that are incredibly deep, such as "buy one get two free", which while driving footfall is destroying category value" he said.
Hill added that Heinz's growth strategy centers on launching product innovations that grow the category, such as brand extensions which invite new users to the category, offer new benefits or create new uses.
"Marketers are best focused on what will grow the category. You look at [consumers] needs and how you can meet them better. If we do a better job of growing the category and meeting needs than the other guys, then we will grow our share too"
Turning Brand Buyers into Discount Buyers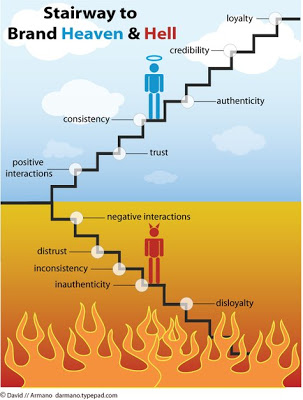 These comments reminded me of a comment Jean-Jacques Vandenheede from The Nielsen Company made when he showed me a chart a few years ago, illustrating the effect of too many price promotions on brands. He called it the "Staircase to hell" and showed the effect of price wars on brand equity.
A buyer becomes a Promotional Buyer when a brand is (too) often on promotion, to the point where the promotional price becomes the "normal" price in the mind of the customer. Once a buyer becomes used to buying on promotion, it is only one small step to trying a private label (PL) product. If the product experience is acceptable for the price paid, it is then only one more small step to becoming a discount buyer.
It is interesting to note that PL sales in the UK are one of the highest in Europe. I know I am only a sample of one, but there are several brands I ONLY buy on promotion today, as I know that discounts are offered every couple of months, so I just need to make sure I buy sufficient stock to last until the next promotion comes out; I am sure you do the same on some products and brands, no?
Are you covering all the elements of Brand Building?
I recently came across a similar concept also presented as a staircase by David Armano (shown above), that includes heaven and hell; it shows both the problem – diminishing brand equity – and the solution, supporting br and building. This staircase includes positive experience, consistency, credibility, authenticity and trust as the br and builders of equity, and the lack of them as leading to brand hell.
With these in mind, how would you say that your brands are positioned on the staircase; are they going to heaven or hell? Do you even know?
What other elements of brand equity would you add to this list of five? Why not share your ideas and how you are measuring your own performance here?
For more information on brand building check out the C3Centricity website here: https://www.c3centricity.com
This post first appeared on C3Centricity in 2011 and has been updated to reflect current facts and opinions.
C³Centricity sourced this image from David Armano