If the headline caught your eye, then you are probably challenged by a declining brand. Am I right?
Unfortunately for you, I'm not going to give you an easy five-step solution to turn around that faltering, or dying brand. And I will chastise you for letting it get that far! But I'll also give you five ideas to help you understand why your brand is declining.
I was speaking with an ex-colleague of mine who is frustrated by her boss – aren't we all at times? She is working on a brand that is globally doing OK, but the brand image results are beginning to show some worrying signs. The most important attributes identified for the product are all trending in the wrong direction.
Her boss continues to argue that since sales are good, why should they worry? He even went further and claimed that as the brand's sales were doing well, there was no reason to continue to measure its image! This is just madness; wouldn't you agree?
Brand image metrics are one of the best ways to follow the health of the brand – if you are following the right attributes. 
Brand image metrics are one of the best ways to follow the health of the brand. #brand #marketing #brandimage
Click To Tweet
By right I mean metrics that are relevant for the brand and the category. I have heard marketers request to measure their advertising slogans in a brand image study. This is obviously wrong, but it still comes up regularly when I'm working with a relatively inexperienced marketer. The reason you don't is because slogans change, but the essence of a brand shouldn't.
So if you don't measure its advertising (directly), what should you measure? I think that the three most important areas to cover are:
the rational, functional benefits
the emotional, subjective benefits
the relational, cultural benefits
Let me give some examples, so you better understand:
Rational, Functional

: removes stains, has a crunchy coating, offers 24-hour service.

Emotional, subjective

: trustworthy brand, high quality, makes me more attractive.

Relational, cultural

: a Swiss brand, trendy, traditional
In addition to these three image areas, I would suggest you also follow the brand's personality and value perception. Both of these will impact its image and can provide clues to help understand changes in the image.
One further best practice is to also follow your main competitors so you have a good perspective of the category and its main selling points. Sometimes declines in image come from a competitor emphasizing an attribute for which you were previously known. As a result, although your brand hasn't changed anything, its association with the attribute can decline due to the competitive actions.
Coming back to my friend and her manager, she asked me what she could do to persuade her boss to continue measuring brand image. This is what I told her to discuss with him.
Review the attributes that have been measured, especially those showing the largest changes. Can you agree on why these have happened? Are you measuring the right metrics that cover the category or are you in need of updating them? Markets change and perhaps your attributes no longer reflect the latest sensitivities. This might be the reason for the image declines while sales continue to rise because the brand corresponds to these new customer needs and desires.
Review customer care line discussions to see what customers are calling in about. See if there are any comments that tie in with the image attribute changes. These discussions will also highlight any areas that you are not currently following in your image tracker – see #1.
Review your customer persona. Have you followed their changes or are you appealing to a new segment of users? If the latter, this might explain the sales increases. However, if you are measuring your brand image on a sub-group of category users that no longer reflect your current customers, this could explain the decreasing metrics. For more information on how to complete a detailed persona description, check out "How well do you know your customers?"
Review market dynamics. If you are following sales and not share, you may be losing customers to other brands which are driving market growth. This might explain why sales are growing, but the image is declining.
Review social media discussion. Today we have the luxury of finding out what people really think about a brand from discussions on social media. If your brand has a solid following or a respected customer base that shares their experience online, then this is a great way to know what is working and what is not. People tend to share negative experiences more than positive ones, so rather than taking offence we can obtain valuable information about a brand's vulnerabilities.
These five areas will make for a lively discussion for my friend and her boss. They should also provide the necessary information for you to slow and hopefully reverse the negative sales trend of your brand. Of course, once you have the knowledge on what to do, you will need to take appropriate actions, but I'll cover that in another post.
Have you tried other ways to manage a declining brand? Have I missed other actions to take to better understand what is happening? If so I'd love you to share your own experiences.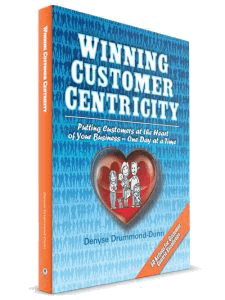 This post includes concepts and images from Denyse's book  Winning Customer Centricity. You can buy it in Hardback, Paperback or EBook format in the members area, where you will also find downloadable templates and usually a discount code too.
The book is also available on Amazon, Barnes and Noble, iBook and in all good bookstores. If you prefer an Audiobook version, or even integrated with Kindle using Amazon's new Whispersync service, it's coming soon!