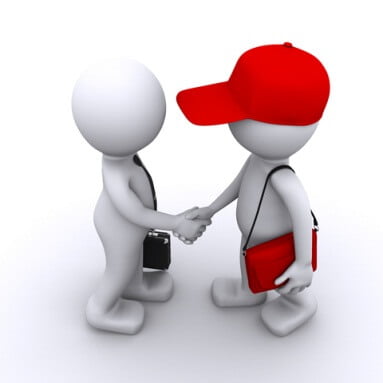 Over the last few weeks, I have been going into the webites of a number of major companies, not just CPG / FMCG, but also Finance, Leisure, Transport, Retail and Pharmaceutical companies to name but a few. It has definitely been an interesting and often frustrating occupation, especially if like myself, you wanted to actually contact them.
I quickly learned that there are generally two ways to contact a company using the information on their website: through their investor relations group, or through their "Contact us" button – if and when you find it of course – usually top left or bottom right corners of the screen (so no-one can find it?)
The frustrating example of a connection journey
Let me describe a typical example of the connection journey. Clicking on the contact tag of a company's website usually brings up a form to be completed, starting with the ominous question "Why do you want to contact us". The choices proposed, from a list or drop down answer menu, include job interest, investment relations, sponsorship requests and – hopefully but not always! – customer services.
If you want to contact customer services, this choice takes you to another form that must be completed before you can start sharing the reason why you are contacting the company. The number of questions asked on this form suggests that the company is more interested in getting as much personal information from you as possible, just in case you leave before adding your details and comments!
In my case I wanted to write a letter to the company; I was surprised at how rarely this was given as one of the methods of contact. Phone number almost always, Email address often, but "snail mail" or a street address for a face-to-face meeting, no thank you! In fact there is often quite a list of telephone numbers for different purposes from which to choose, but usually the only postal address shown is for investor relations, which is generally managed by an outside organisation.
Connect on your Customers' terms, not yours
All of this to say that if you want to be truly customer centric then you need to make it as easy as possible for your customers to contact you – and on their terms, not yours. Give them the opportunity to connect with you by phone, Fax, email or "snail mail", and even give them your street address so they can pop in and speak to someone in person, face-to-face if they prefer. Connecting with the people that spend their money on your products and services should be viewed as a priviledge and defintely be on their terms not yours – they are doing you a favour, not the other way round!
How Customer centric is your website?
Now take a moment to have a look at your own website to see just how easy you make it for your own customers to contact you. Are you frustrating them by the labyrinth of pages they have to navigate to find the way they prefer to contact you? If you don't make it easy, they may just interpret this as being a lack of interest in them and their comments on your part and in turn they might just lose interest in you, your products and services.
So the quick test of customer centricity for you:
1. Do you encourage and actively invite comments, complaints and feedback from your customers, consumers and clients?
2. Can your customers, consumers and clients easily connect with you, from the front page of your website?
3. Do you offer them all possible forms of contact, so they can choose the one with which they feel the most comfortable?
4. Do you take their perspective when proposing topics or the reasons for wanting to contact you?
5. Do you ask for information that is relevant and useful in order to respond to their contact only and nothing more?
If you don't answer yes to all five questions, perhaps you need to take another look at improving your website and also your customer centricity.
Do you have any other ideas to add to my list to ensure web pages are customer-centric? If so, then please share them.
Need help in improving your own customer care? Let us help you catalyse your customer centricity; contact us here or check out our website: https://www.c3centricity.com/home/engage/
This post was first published on C3Centricity's Comments page on July 28th 2011
C³Centricity sources images from Dreamstime.com