I got an email today that irritated me, I mean it really insulted me, and prompted this post on customer centricity. I am sure it would have annoyed you too; in fact you have probably already received it or at least something similar yourself in the past.
It announced a "massive 46-page eBook" that I had been chosen to receive for free. It sounded as if I should be happy and feel privileged to receive it. I wasn't. I don't know about you, but I don't call 46 pages massive. A jumbo jet is massive; War and Peace by Leo Tolstoy is massive; not a measly 46 pages – even if it was for free.
Why do companies continue to think that they can treat people like idiots? In my opinion, it can only be a very short-lived business strategy. People will quickly learn the truth, especially in today's connected world. Or should I blame the advertising agencies for coming up with these "lies"? However, it seems to me to be just a little too close for comfort to the "misleading claims" from which the Advertising St andards Authority in most countries should be protecting us.
If you are looking to be truly customer centric, here are some other examples that you are hopefully NOT doing.
Claims
The above illustration is just one example of many exaggerated claims which seem to have become prevalent these days. This is most probably because the internet makes it so easy to reach new, "naive" customers, who still trust organisations to do the right thing. Why do so many companies use overly attractive adjectives that their product or service can't live up to? They are setting themselves up to disappoint their potential customers, especially if they don't register what comes after that word before buying.
Massive, mouth-watering, heart-stopping, mind-blowing, huge discount, best price ever; most of the time the products are not, which is probably why they feel they have to use such words. Customer centric companies don't use these claims unless they can substantiate them.
Packaging
One area that often suffers from exaggeration is packaging. How many packs have you opened to find the product sitting miserably in the lower half of it? What a disappointment from the promise of the packaging. Or worse still in my opinion, are companies whose packs have been discretely reduced in contents over time. Companies may print the weight of the product that is inside the pack, but customers recognise and buy the pack without checking its weight each time they buy.
What is particularly offensive in this example is that it is the company's most loyal customers who are being cheated. The company reduces the pack's quantity but not its price; they are getting a price increase without informing their customers. That isn't customer centric.
Value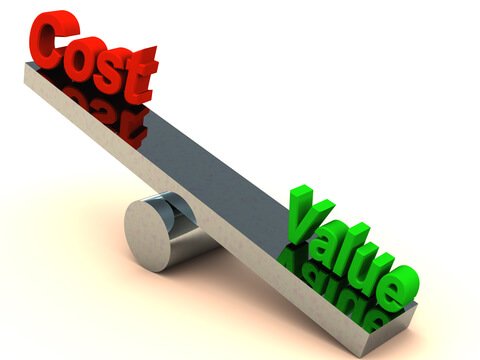 Another area that often suffers from exaggerated claims is price value. I was recently offered access online to a video "worth more than US$ 997" for just US$49.99. I don't know any videos, even those of the classics or Oscar-winning films, that are worth that amount, and certainly no such offers proposed on the internet.
To paraphrase the infamous quote of Oliver Platt:
"Value is in the eye of the beholder, not the seller" (>>Tweet this<<)
How are you pricing your own product and service offerings? Do you base it on company cost or customer value? If not the latter, you may also be leaving a lot of money on the table, as your offer might actually be worth more than you are charging for it. The most important information you need to decide on your price is what your customer is prepared to pay for it; that is what value is all about. Customer centric companies know and apply this on a daily basis
Promising but not delivering
Airlines are renowned for this, especially the low-cost ones. They advertise flights at ridiculously low prices that few, if any, end up paying, since you need to add on the cost of paying by credit card, booking your seat, taking a bag on board etc. etc. Yes the advertised price attracts attention, but once you have made a few attempts at reserving these low prices, you underst and the "game" and compare before buying. And most of the time the "normal" airlines are cheaper. As I'm sure you're heard many times and to quote Thomas (Tom) J. Peters:
"The formula for success is to under-promise and over-deliver" (>>Tweet this<<)
Amazon and Zappos are two companies who regularly do this; in fact it's a part of their business model. They occasionally provide priority delivery at no extra cost, as a delightful surprise for their customers. Amazon also proposes useful suggestions of other books, music or other products to buy whilst you are surfing their website to purchase something. Yes, I know it is in their interest to get you to buy something else, but it is a service and highly valued by most people. Customer centric behaviour is always a win-win for both the customer and the company.
Hidden renewals
You subscribe to a service on a free trial basis, or a one-off monthly fee as many Telecom companies now offer. What you don't notice or remember, is that it is automatically renewed at the end of the trial period unless cancelled. Yes I know it's written in the terms and conditions or at the very bottom of the online page if you scroll down, but I don't read font 8 very easily, even with my glasses! And be honest, none of us reads to the very end of the terms and conditions, and the companies that use this tactic are counting on it.
Of course, when you are informed that your subscription has been renewed, you realise what has happened and immediately cancel, with hopefully only a one month and not an annual unwanted payment. Yes the company has gotten a payment it probably wouldn't have gotten otherwise, but they certainly didn't make us a loyal and happy customer, did they?
If you are using this type of "hidden selling" to get customers, please stop. Customer centric companies invite people to continue their subscription, perhaps at a special price. In this way they will get almost as many customers, but they will most certainly be happier and more likely to continue to purchase from them.
These are just a few examples of how companies are intentionally aiming to get customers to buy something that is not worth the money being asked in many cases. If the product or service they propose did offer true value, then people would buy or repurchase without the need for such tricks. As Peter Drucker said:
"The aim of marketing is to know and underst and the customer so well the product or service fits him and sells itself" (<<Tweet this<<)
I would go one step further and say that it is the aim of customer centric businesses.
With today's ease of sharing experiences on the web, why do companies continue to try to cheat unsuspecting customers? It is most definitely a short-term business strategy. Unhappy customers used to tell ten people, now they tell tens of millions, with a simple Tweet. And if there are several unhappy customers who Tweet about similar experiences, then others will start to see the trend and become wary. Whilst there will always be a few disgruntled customers who complain, more than that will highlight a real issue.
This reminds me; I hate doing it but I am one of the people who have tweeted about poor customer service because I am not getting an answer when using the provided phone and email contacts. Customer service is all about taking the customers' perspective (>>Tweet this<<) and offering multiple ways to be contacted and then responding quickly. Companies do respond to negative tweets, usually in record time and certainly faster than connections by other means. Why are companies forcing their customers to go public with their dissatisfaction to get heard? Most would be happy and would probably prefer to share their complaints with the company in private – IF they get a quick response.
So coming back to my question, the answer is a resounding yes. Most companies now speak about the importance of being customer centric, but so many of them are still doing many of the practices mentioned above, which are most definitely NOT customer centric behaviour. Are you one of them? Do you have other examples that you yourself have experienced? Why not share them here?
C³Centricity used images from the ASA in the UK, Dreamstime and Microsoft in this post.