Last week I wrote about some of the issues

keeping marketers up at night

and offered some suggested actions for each. Do you know what they are? Are you too worried about them?
The number one challenge faced by marketers today is reaching their customers, which may come as a surprise in this multi-channel, always on, environment we live in. However, once you have reached them and convinced them to buy, you still have the, perhaps even tougher, challenge of keeping them.
With so much on offer and the desire for novelty constantly growing, customer loyalty is declining. In fact, according to Bain & Co and Kantar Worldpanel' 2012 survey mentioned, 50% of a brand's 'loyal' users today will not be with them one year from now. 
Therefore, to follow on from last week's post, I want to review what makes good customer service, since I believe it is one of the few ways of both building and keeping loyalty, as well as getting that vital advocacy that can grow your customer base even further. And I don't seem to be alone in this belief.
Steven Van Belleghem wrote a great post on "Why customer loyalty is declining and what companies can do about it" in which he shares his views on why this is so and what companies should do about it. His three solutions were:
1.      Treating customers well
2.      Treating employees well
3.      Doing good for society
So, assuming we accept (at least) his first solution, what do you need to do to treat customers really well? Here are a few thoughts from my side, but feel free to add your own ideas below:
#1. Really value the customer

When I was younger I was very house proud, but these days I prefer surfing to dusting! That is one of the reasons why I have a Dyson vacuum cleaner; it gets the job done more easily and speedily and without too much mess or effort. You can therefore understand my frustration when the turbo brush stopped working. This was the second time in four years that this piece had ceased to function properly; the first time I was told that the newly introduced guarantee didn't apply to me as I had bought my cleaner before its introduction! I therefore found myself paying a hefty price to replace the brush head.
Imagine my surprise therefore when I called Dyson this week and was told that as I had already bought a replacement brush before, this new one was going to be offered to me for free, in appreciation of my loyalty! Talk about being surprised AND delighted. The two-week delay for its delivery, which could have frustrated me, suddenly was no longer an issue; I'll make do for now.
Dyson understands their customers. They turned a problem – being out-of-stock – into an opportunity to reinforce my loyalty. They clearly value my custom AND my patience and are happy to pay the (small) price in exchange for my continued loyalty.
#2. Go above and beyond in service
Zappos is known for their excellent service and have actually made it their mission. As they themselves say "We've aligned the entire organization around one mission: to provide the best customer service possible. Internally, we call this our WOW philosophy".
In line with their mission, they have a model they call the "Happiness Experience Form" that they use to measure what they consider to be the four critical factors of customer delight:
Did the agent try twice to make a personal emotional connection (PEC)?
Did they keep the rapport going after the customer responded to their attempt?
Did they address unstated needs?
Did they provide a "wow experience"?
I particularly like their #3 factor, responding to unstated needs; that takes customer service to a whole new level that few organisations achieve. Unfortunately, many still don't even satisfy customers' stated needs!
Zappos NPS (net promoter score) rose 5% points following the introduction of the happiness experience form. That's pretty impressive, wouldn't you say? If you'd like to read more about Zappos customer service practices, I would recommend CRM Analyst Ashley Verrill's " A Zappos Lesson in Customer Service Metrics".
 

#3. Understand your customers' experience

In order to delight your customers you need to take their perspective, not just view things from yours. This can be done in many ways. You can organise connection sessions where employees go shopping with customers or meet them in their homes. You can spend time listening to call centre exchanges or following market research projects in person. For a complete review of all the different ways to connect and learn from your customers check out " How to become a fan of your customer" or search the "observation" or "customer service" categories by clicking on the words just below this post's title.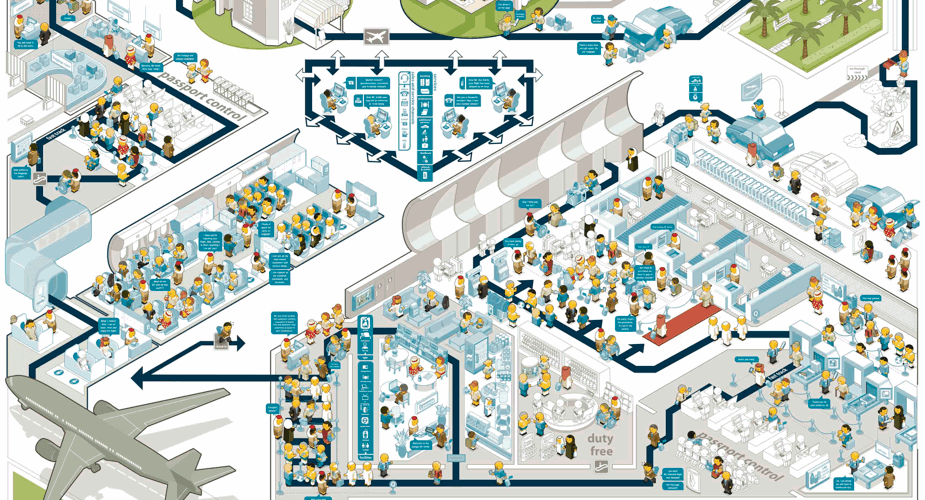 Understanding the journey your customers make, to compare, choose, purchase and then build to loyalty and advocacy, is one way to bring competitive value. Emirates airlines have done a great exercise in customer journey mapping and use it intensively in their training. What they have done particularly well in my opinion is linking each experience to emotions, highlighting strong and weak, positive and negative emotions to each one.
Taking their customers' perspective and understanding the emotions connected with each has enabled them to earn much respect – and loyalty – within the industry.
Really valuing your customers means that you will do whatever it takes to not only meet their needs, but even surpass them. They should be surprised and delighted by your customer service, which makes understanding the purchase process from their perspective absolutely essential. If you manage to do that and correct any sticking points where your customers are having negative emotions, you will more likely achieve increased loyalty and hopefully advocacy too. 
If you need help in optimising your own care centres or customer connections then we would love to support your plans. We know we can help, just tell us where and when. Contact us here and check out our website: https://www.c3centricity.com/home/engage
No Obligation, just INSPIRATION!