Many of my clients tell me that they underst and they should be paying more attention to their customers, but admit that they just don't know where to start when it comes to becoming more customer centric.
I can empathise with them; the task may seem overwhelming at first. After all, it is not something that can be corrected by just starting a new project or taking a single action. It dem ands consistent effort over the longterm, to make an organisation truly customer centric. Here are a few of the ideas I give them at the start of their journey, taken from my latest book Winning Customer Centricity, now available in Hardback, Paperback and eBook formats on Amazon, andnoble.com/w/winning-customer-centricity-denyse-drummond-dunn/1121802409?ean=9782970099802″ target="_blank">Barnes and andnoble.com/w/winning-customer-centricity-denyse-drummond-dunn/1121802409?ean=9782970099802″ target="_blank"> Noble,  iBook and in all good bookstores.
As I am often quoted as saying:
"Customer Centricity is a Journey and not a Destination" (>>and%20not%20a%20Destination%22%20%20[tweetlink]%20%23CRX%20%23Quote" target="_blank" rel="nofollow">Tweet this<<)
So where do you start?
The first action to take when turning around a product or service-based company is to start by thinking about how your organisation is currently working. What is its structure and what processes are used to develop your offers? It is only by underst anding how your company functions, that you can identify the priority changes that need to be made. Therefore these are the first five things I suggest to do when starting on your own journey to improved customer centricity:
1. Identify a C-suite sponsor
Every project needs a sponsor, but when it involves a major culture change, it must be sponsored at the very top, ideally by the CEO. (>>Tweet this<<) If this is not possible, the most customer – savvy executive should be the sponsor, whether that is the CMO or the SVP of marketing services or customer insight.
The initiative must be recognised as a priority company objective by everyone in the organisation, so the higher the level of the project sponsor is, the better it will be.
2. Make every employee aware of the priority initiative
Once you have a senior sponsor, the next step is to make everyone aware of the initiative. It always amazes me how many departmental projects go unnoticed by other groups within the same organisation. (>>Tweet this<<) In my consulting practice, I often uncover overlapping projects when I am invited to work with a client on a project. Perhaps this is because I work across departments and therefore don't suffer from the silo effect impacting most employees. I also have the privilege of being able to ask "silly questions" which of course are never redundant.
In order to make all employees aware of the project, it must be mentioned at every opportunity. This means signing your emails with a suitable quote such as:
"We don't pay your salaries, our customers do, every time they buy our product" (>>Tweet this<<)
or
"There may be customers without br ands, but there are no br ands without customers" (>>ands%2C%20but%20there%20are%20no%20br ands%20without%20customers%22%20%20[tweetlink]%20%23Customers%20%23Br ands" target="_blank" rel="nofollow">Tweet this<<)
You can also mention it in newsletters, on bulletin boards, or through internal memos, with clear explanations as to why it is important and how everyone is expected to participate. This alone will make the project st and out from the tens if not hundreds of other projects in your organization, which are most likely driven by a single department or group.
3. Identify your categories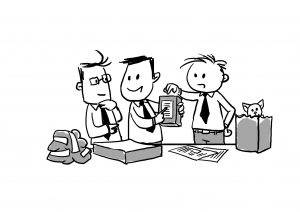 This may seem strange to be asked to evaluate the categories in which you are active, but I am always surprised how many companies identify the category from a manufacturers perspective and not that of their customer. (>>Tweet this<<) For example a carbonated fruit juice could be seen by customers as being a part of carbonated soft drinks, of fruit juices, or in a completely new category of its own. It all depends on how they consume it.
Another example might be a dried soup mix, which customers may use to make soup, but also to make a sauce, to add taste to a casserole or dip, or to enhance the flavour of a dish made from scratch with fresh ingredients. In each case, the soup mix would be competing with products in those different categories, such as sauce mixes, flavour enhancers, and not just other (dried) soups.
4. Identify the category users
As you can imagine, if your product is being categorised in different product segments by consumers, then the users themselves will most likely differ. Taking the above example of dried soups, the category user might be:
Young singles – using the product to make a quick and easy soup

Mothers of teenage children – to make their sauces more flavourful

Couples – to add to their scratch cooking recipes
In each case the group of consumers have differing needs and therefore different segment descriptions. This is why underst anding the category in which you are active and the customers of the sub-group that you are appealing to, is a vital first step to underst anding your customers. (>>anding%20the%20category%20%26%20customers%20of%20the%20sub-group%20you%20are%20appealing%20to%2C%20is%20a%20vital%20first%20step%20[tweetlink]%20%23Customer%20%23Underst anding" target="_blank" rel="nofollow">Tweet this<<)
5. Choose your category segment
Again taking dried soups as our example, the description of your users will be very different depending upon how they use the product. The simple demographic breaks mentioned above would be insufficient to be able to get to know them well. The more descriptions you can add to these basic demographics, the more likely you are to underst and and therefore delight your customers. (>>and%20your%20customers.%20[tweetlink]%20%23Customer%20%23Personas%20″ target="_blank" rel="nofollow">Tweet this<<)
In C³Centricity we use the 4W™ Template to identify and store everything we know about category users. For more information on this useful template, see the post " and-underst and-your-customers/" target="_blank">How well do you know your customers?" or the Video series on YouTube. You can also download the free template in the Members area.
These are the first five actions to take when starting out on your own journey to increased customer centricity. Getting the whole company and every employee in it, behind such an initiative, is the only way to make it happen. As Tony Hsieh, CEO of Zappos is often quoted as saying:
"We believe that customer service shouldn't be just a department; it should be the entire company"
Your customer centric journey starts with these first steps, and then it's just a matter of knowing intimately the people you are hoping to satisfy and delight, and ideally surprise too. Have you already started your journey to Customer Centricity? If so, what has been your biggest challenge to date,  and if you solved the issue, how did you do it? Others who are just starting on their journey would love to hear from you.
This post has been inspired by the first chapters of Winning Customer Centricity and includes images from the same book. You can buy it in Hardback, Paperback or EBook format in the members area, where you will usually find a discount code. It is also available on Amazon, andnoble.com/w/winning-customer-centricity-denyse-drummond-dunn/1121802409?ean=9782970099802″ target="_blank">Barnes and Noble, iBook and all good bookstores. If you prefer an Audiobook version, or even integrated with Kindle with Amazon's new Whispersync service, you'll have to be patient a little longer.