Competitive Advantage
Get ahead of your competition by adopting a customer-first approach to everything you do.
Did you know? Companies that are customer centric grow seven-times faster than those that don't, and are 60% more profitable!
C3Centricity offers a precise, personalised roadmap that Fortune 500 companies use when adopting a customer-first strategy. We also provide ongoing support during your journey, online video courses and 1-Day Catalyst Training Sessions.
Check out our relevant Training Offers:
M3: More Meaningful Market Research. Objectives: Update your Market Research Toolbox. Identify the best KPIs to monitor your business.
DOWNLOAD SUMMARY
I3: Improved Ideation & Innovation. Objectives: Expand your innovation thinking and incorporate new levers.
N3: New, Next-generation iNsights.  Objectives: Review your current thinking, definition & development process of insights.
I2A: Insights into Action. Objectives: Develop and / or optimise your current insight development practices.
DOWNLOAD SUMMARY
I2I: Insights to Impact.  Objectives: Develop and / or optimise current insight knowledge-sharing practices.
DOWNLOAD SUMMARY
Let's Connect & get you Moving Forward Again!
We're looking forward to discussing possible solutions with you today.

Buy the book that Fortune 500's Follow Daily!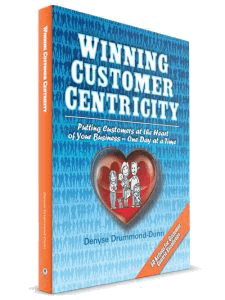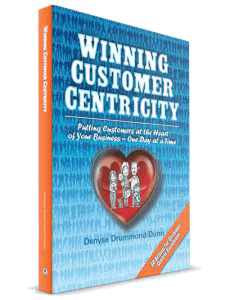 Winning Customer Centricity
Putting Customers at the Heart of Your Business – One Day at a Time
The ultimate resource for destroying your competition and thriving in a dynamic marketplace
What does it take to truly succeed in business today? An innovative product? Deep investor pockets? Expensive marketing initiatives? While those things are all helpful, the one thing that every company needs most to survive is the loyalty and support of their customers.
It's time to put your customers first, whether you are:
Starting a new company
Fixing an underperforming company
Ready to take a successful company to the next level
Denyse Drummond-Dunn, President of Swiss-based C3Centricity, has built a global reputation as a customer advocate and change catalyst. In Winning Customer Centricity, she takes you on a weekly step-by-step journey to making your business customer-centric. Find out more HERE.