Stories exist in all cultures. They have developed down through the ages as a means of transferring knowledge, long before books and now the web enabled their storage.
Today's information-rich world has made storytelling a required talent for CEOs and CMOs alike to develop. And websites and Fan pages now make it a necessary skill for br ands too.
Br and stories are perhaps one of the easiest ways to resonate with customers. Hopefully, this will then lead to those highly sought-after but ever-diminishing rewards of loyalty and advocacy. Of course, I say "easiest" with caution, since great storytelling is an art that is often learned but rarely truly mastered. ( and I am conscious that I am (too) often in that group!)
One of the best places to find great stories is on TED. Amongst the most popular talks on the topic of storytelling, "andrew_stanton_the_clues_to_a_great_story.html">The Clue to a great story" was given in February 2012 by Andrew Stanton. Stanton is the Pixar writer and director of both the hit movies Toy Story  and WALL-E. I was reminded of his talk because it has since been turned into an infographic on the TED Blog. It inspired me to review the five "clues" Stanton talked about and then to apply them to br ands. These five essential elements of remarkable br and stories are the result.
Make me Care
According to Stanton, a story needs to start by quickly drawing sympathy from the audience / reader. The hero is introduced as being rejected or badly treated by family, friends, circumstances, or the world in general.
Well-known examples of heroes include Cinderella or the lovable WALL-E in the film of the same name. Their predicament immediately generates feelings of concern and empathy, especially when identified as unfair or outside the control of the hero.
This works well for people, but for br ands I believe the emotions sought should be on the opposite side of these as demonstrated by Plutchiks' Wheel of Emotions (see right).
Those of trust, admiration or anticipation are more relevant for br ands than remorse, grief, and loathing. People spend money on br ands because they believe that they will provide pleasure and / or solve one of their problems. Our job as marketers is not only to satisfy this need but to go even further by turning that expectation into surprise and delight (but more on that later).
Take me with you
In storytelling, there is often a journey, a mystery or a problem that needs solving. Something that entices the reader or audience to linger a while longer  and to learn more about the situation. In a similar way, a br and wants its customers to remain and become loyal. It therefore makes promises, whether real or just perceived as such by the customer.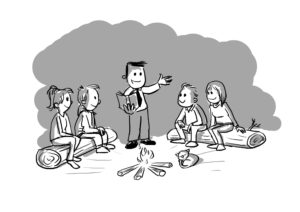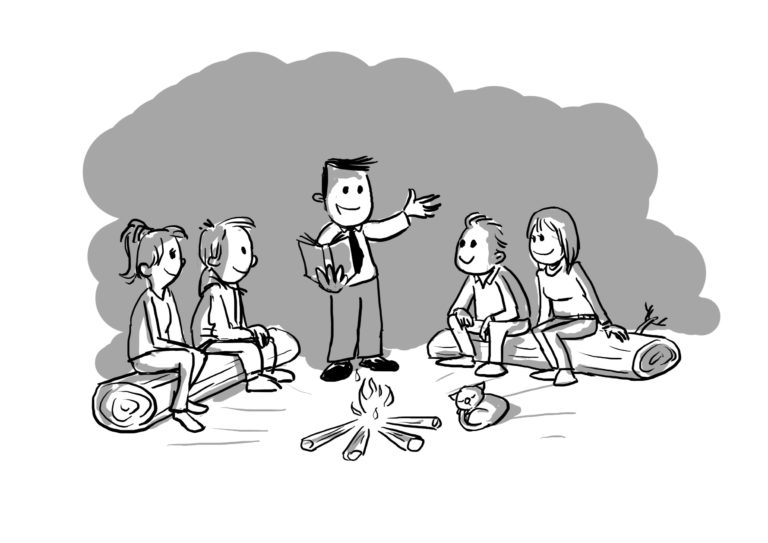 When I first started working at Philip Morris International, there was a rumour amongst consumers that Marlboro was financing the Ku Klux Klan in the US. This started because its packaging had three red rooftops or "K's" on it (front, back and bottom of pack). Management obviously didn't want this untruth to be believed by its smokers, so one of the K's was removed by making the bottom of the pack solid red.
However, consumers' desire for mystery and intrigue was so strong that another rumour quickly emerged. This time, smokers had found three printer's colour dots inside the pack (black, yellow and red). The story went that these markings symbolized that Marlboro hated Blacks, Asians and Indians! Once again management looked for ways to dismiss this rumour, but as in the previous case, just denying it would have most likely led to further reinforcement of the rumour. Since the printer needed these colour matches, they remained for many years.
Customers love to tell stories about "their" br ands. There are many myths about the greatest br ands around, often starting from their packaging or communications. For example, Toblerone has the "Bear of Berne" and the Matterhorn, exemplifying its Swiss origin, on its pack. The br and name too has Berne spelled within it and the chocolate itself is shaped like a mountain.
Camel has the "Manneken Pis from Brussels" on the back leg of the camel. Whereas the Toblerone links were intentional, I don't think JTI planned that association into their design! Consumers just looked at the pack and having discovered the resemblance, started to share their findings, and it became a "truth".
Many other br ands have developed stories through their communications, that are also shared and repeated until their customers believe they are true. Further examples include Columbia outdoor wear's "Tough Mother" campaign, Harley Davidson's enabling "middle aged" men to become bikers at the weekend, or Dove's campaign for real women to name just a few. All these stories confirm and further support the connection their customers have with these br ands, so they almost become a part of their extended families. Such a strong emotional connection will ensure br and loyalty and advocacy for as long as the stories are maintained.
Be Intentional
In a story, the hero has an inner motivation, which drives them toward their goal. They will encounter problems and challenges along the way, but their motivation remains strong to reach their desired destination.
For a br and, this motivation is what it st ands for, its br and equity. What is the br and's image, its personality; what benefits can the customer expect? Not only is it important to identify these, but perhaps even more importantly, is to consistently portray them in everything a br and does. From its product to its packaging, its communications to its sponsorships, the customers' loyalty and appreciation are reinforced by every element that remains consistent and continuously reinforced.
Let me like you
A story depends on a hero with whom the audience can empathize; someone worthy of their respect, even love.
This is exactly the same for br ands, which is why problems and crises need to be h andled quickly, fairly and respectfully. In today's world of global connection, everything a br and says or does, anywhere in the world, is shared and commented upon, around the globe in a matter of milliseconds. Whereas in the past, disappointed customers may have told ten others, today it is estimated to be closer to ten million, thanks to social media!
In a great article entitled "What an angry customer costs" by Fred Reichheld, it is said that the cost to companies of haters or detractors is enormous. "Successful companies take detractors seriously. They get to the root cause of customers' anger by listening to complaints, taking them seriously and fixing problems that might be more pervasive" But it's not merely a question of preventing the spread of negative word of mouth. As Reichheld, himself says "For many customers … (resolving complaints) …is where true loyalty begins".
(Surprise and) Delight me
Stanton says that stories should charm and fascinate the audience. For br ands, we should aim for surprise and delight as previously mentioned. The surprise of learning something new about the product or company that made it; delight at getting unexpected gifts or attention from the br and.
This is where limited editions and seasonal offers first started, but over the last few years, thanks to today's connected world, br ands are going much further:
In 2010, SpanAir delivered an Unexpected Luggage Surprise for its customers flying over Christmas Eve.
Also in 2010, another airline KLM, had staff members prepare gifts for a select few passengers who tweeted about their pending departure on a KLM flight at the airport.
Tropicana  brought "Artic Sun" to the remote Canadian town of Inuvik, where residents live in darkness for weeks each winter.
Amazon is known for their excellent customer service, but they often go the extra mile, upgrading customer shipping to expedited service for free.
Kleenex surprised sick people with their Feel Good campaign that targeted people Tweeting about going down with the 'flu.
Google, who are known for their creative and timely illustrations on their homepage, started showing a birthday cake as the image above the search box on people's birthday.
The last example actually happened to me for the first time a few years ago and I admit that I was so excited I actually Tweeted about it! Am I the only one who was touched by this gesture, because I haven't heard anyone else mentioning it?
So those are Stanton's five clues to a great story, adapted for br ands. Do they work? What stories are told about your own br ands? Or do you have other great examples to share? Please share them below.
For more on br ands please check out our website: https://www.c3centricity.com/home/engage/ or contact us here for an informal chat about how we could support your own br and building efforts or provide fun and-evaluation/">training days.
This post has been adapted and updated from one which first appeared on C3Centricity in 2013.